Yorkton Ventures $YVI is featured in the following article: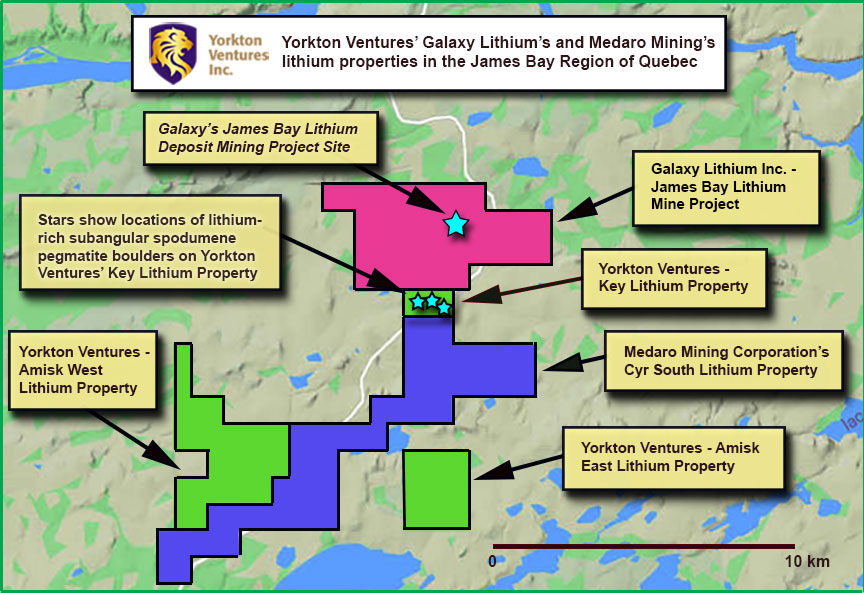 Cyr-Kapiwak includes three non-contiguous lithium properties
  – Key Lithium Property
The Key lithium property is located adjacent to the advanced James Bay lithium project owned and operated by Allkem (former Galaxy Resources). The James Bay lithium project boasts a 40.3 Mt, 1.4% Li2O resource estimate.
  – Amisk West & Amisk East Lithium Property
The properties are located south of the Key property, both properties contiguous with Medaro Mining Corp's Cyr South Lithium Property. The Amisk properties encompass large tracts of pegmatite-bearing granites that remain largely unexplored.
Highly Prospective Area - Historical findings of boulders with 2.9% Li2O
A report from Sylvain Desbiens (geologist) describes the discovery and sampling (conducted by Rock Teck Resources Inc) of erratic blocks on the 3-claim area that now forms part of Yorkton Venture's Cyr-Kapiwak Project. While the report was written in French, it was summarized by the MERN as follows:
"Significant pegmatite spodumene dykes (Cyr-Lithium prospect) related to the Kapiwak pluton are found just north of the property.
The aim of this project is to check for possible other spodumene-rare metals deposits associated to that pluton. Spodumene pegmatite boulders found in the northern part of the Kapiwak property incite to detail prospecting. Rare metal lithium-bearing pegmatites, including the Cyr-Lithium prospects, are associated with the Kapiwak pluton.
The Kapiwak property covers a large area of the northern part of the Kapiwak Pluton, south of the Cyr-Lithium prospects. Spodumene pegmatite boulders grading up to 2.9% Li2O are found in the northern parts of the Kapiwak property. Potential sources for the above-mentioned spodumene pegmatite boulders could be from a non-outcropping land area southern-fringing the Cyr-Lithium deposits, and/or from the Cyr-Lithium pegmatite dyke swarm."
The report from 2009 outlined a few recommendations for the project: 
– Carry out fieldwork to identify geological similarities to the James Bay Deposit
– Trenching & follow-up diamond drilling if trenching is proven successful
Sirmac East Project Summary
1. Contiguous with Vision Lithium's Sirmac, Winsome Resource's Sirmac-Clapier and the Troilus Gold project
Immidiately east of Yorkton's Sirmac East property, is the Sirmac Lithium deposit with an estimated 314,328 tonnes grading 2.04% Li2O. The property is also contiguous with claims held by Winsome Resources and Troilus Gold.
2. Historical lithium occurrences
Findings of lithium-bearing boulders and the Clapier lithium showing indicates strong potential for further discoveries.