Portofino Resources in short
A Canadian-based company dedicated to the Acquisition, Exploration, and Development of lithium projects in Argentina's esteemed Lithium Triangle

Their critical metals projects include the drill-ready Yergo Lithium property in Argentina's Lithium Triangle and three lithium projects in Ontario, Canada. Portofino has recently signed an agreement with the Argentine state-owned mining company, REMSA, to potentially acquire a majority stake in multiple lithium concessions.

Additionally, Portofino operates gold projects in the Red Lake mining district of Ontario, as well as three other gold projects in northwestern Ontario.
Portofino Resource's project:
Portofino Resources has executed a Memorandum of Understanding (MOU) with Recursos Energeticos Y Mineros De Salta S.A. (REMSA), the state-owned mining company of the Province of Salta, Argentina. The MOU grants Portofino the option to earn a majority interest in multiple prospective mining concessions totaling over 27,000 hectares, located in the heart of the Argentine Lithium Triangle and in close proximity to world-class lithium projects. 
Subject to results of initial surface exploration activities on each project, Portofino may exercise its "Option" to form a joint venture company ("JV") to advance to the next stages of exploration and development. The Option shall remain in effect for up to two years from initial (non-invasive) exploration work in each mining concession.
The company has signed a separate agreement with Ronialem S.R.L., which will hold a 15% interest in any joint ventures formed with REMSA.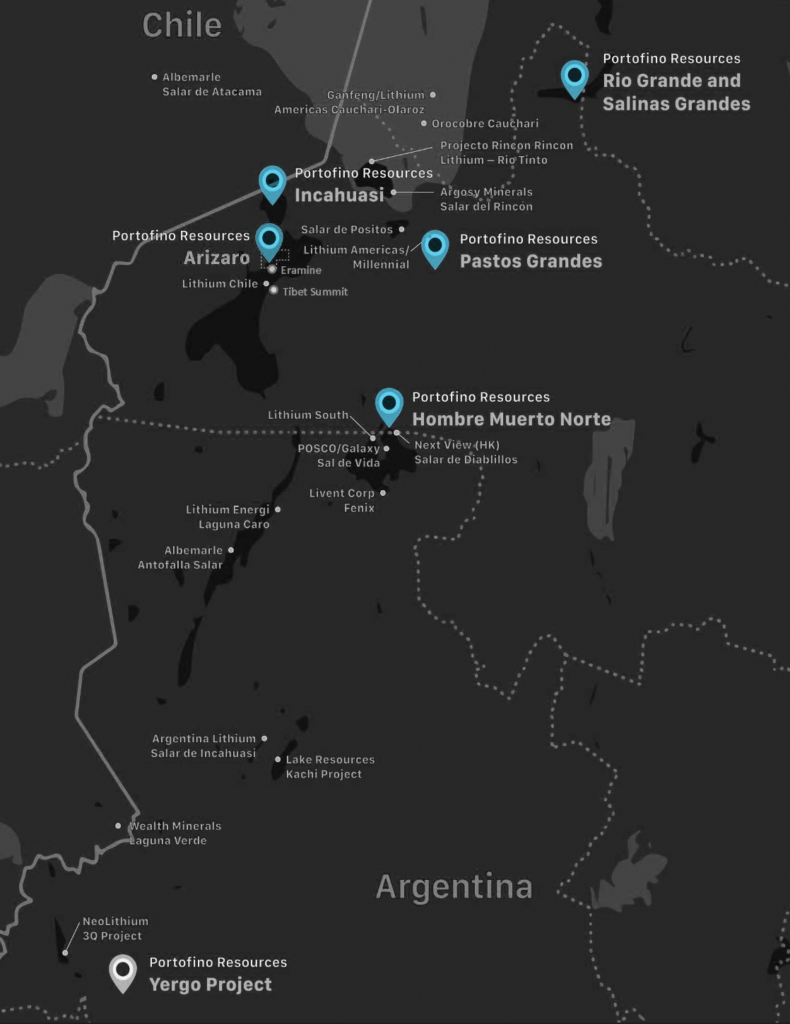 1. Multiple Mining Concessions
Arizaro (19,111ha) 
– Concessions located south of the advanced Rincon project which was recently sold to Rio Tinto for $825 million. First concession to be included in a joint venture – read more about the Arizaro project by clicking the button below.
Hombre Muerto Norte (3,028ha)
– Concessions are located in close proximity to Galaxy/Posco (Sal de Vida) project which is at Feasibility study stage. The Hombre Muerto salar also hosts multiple developing lithium projects and includes Livent Corp's producing Fenix project.
Pastos Grandes (3,489ha)
– Concessions are located in close proximity to the Millennial Lithium project which was recently sold to Lithium Americas for $400 million.
Incahuasi (722ha)
– Concessions located on the Chile border and just west of the Rio Tinto Rincon project.
Rio Grande and Salinas Grandes (1060ha).
– Concessions located east of Orocobre's producing Olaroz project.
Portofino has financed reconnaissance mapping, surface sampling, surface trenching sampling, and geophysical survey programs, with initial feedback suggesting the presence of a deep lithium-bearing aquifer, similar to other operators in the Arizaro salar region.
Management anticipates the bidding process to be finalized in October, with further developments to be reported as they become available.
Portofino Resource's projects:
Of the 19,111 ha in the original MOU
Portofino, in collaboration with REMSA, has filed a joint venture proposal for an 8,445-hectare property within the Arizaro Salar. This project is near multiple world-class salar lithium projects, including those operated by Ganfeng Lithium, Rio Tinto, Eramet, and located in the same salar as Lithium Chile Inc. 
Portofino has financed reconnaissance mapping, surface sampling, trenching sampling, and geophysical survey programs, with initial feedback suggesting the presence of a deep lithium-bearing aquifer. Portofino has joined the bidding process organized by REMSa by purchasing a bid package in early July. The deadline for new participants to submit their bids (those who have acquired the bidding package) is the 16th of August.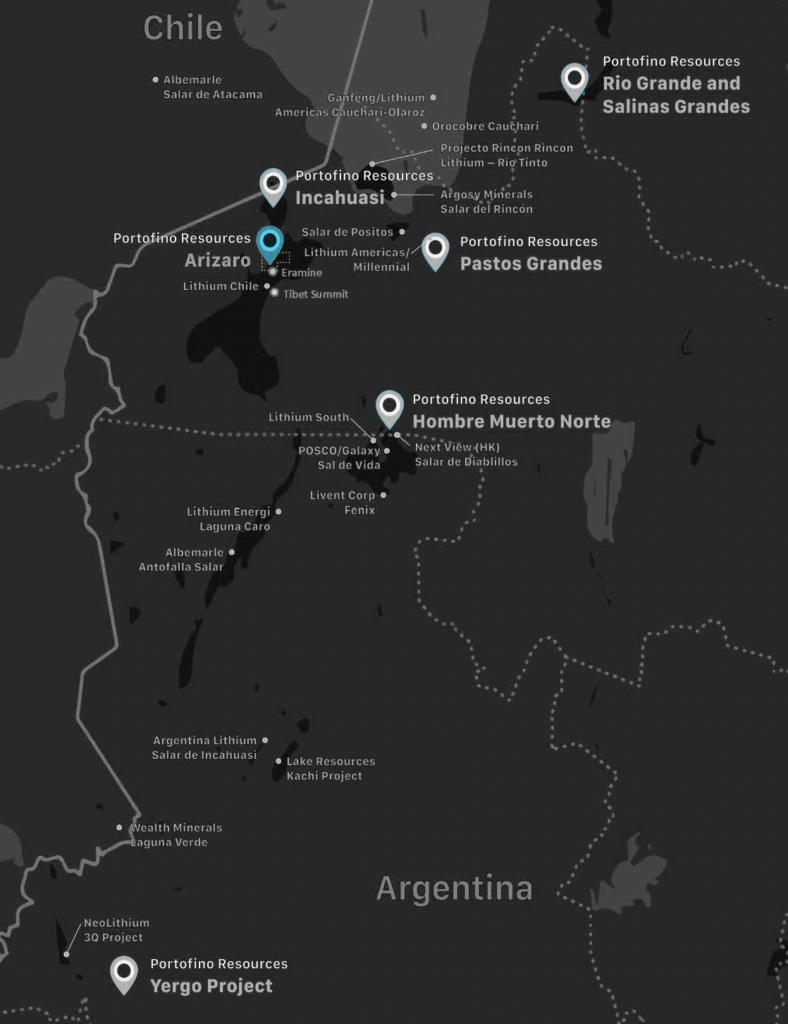 1. Joint Venture Possibilities With REMSa
The MOU suggests a potential joint venture between Portofino and REMSA for the 8,445-hectare property located in the Arizaro salar. This area is in close proximity to several globally recognized salar lithium projects and upcoming production projects managed by leading industry entities.
Portofino has financed reconnaissance mapping, surface sampling, surface trenching sampling, and geophysical survey programs, with initial feedback suggesting the presence of a deep lithium-bearing aquifer, similar to other operators in the Arizaro salar region.
Upcoming Milestones: Management anticipates the bidding process to be finalized in October, with further developments to be reported as they become available. The concessions available in the bidding process is displayed in the image below.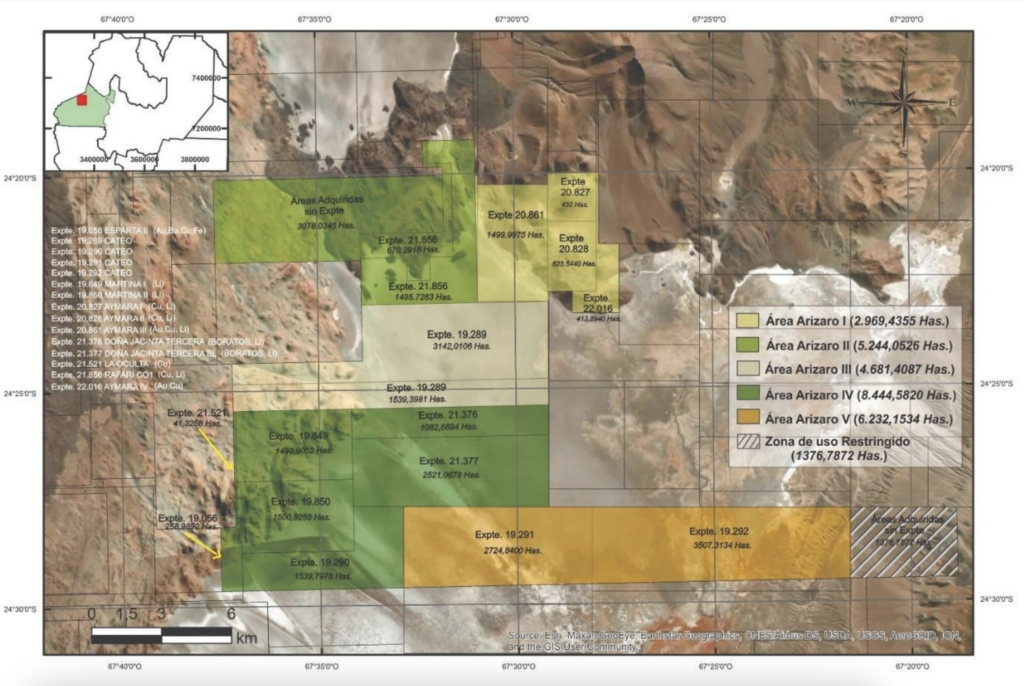 Portofino Resource's project:
The Yergo Project is a strategic lithium asset of Portofino Resources, located within South America's "Lithium Triangle" in Catamarca Province, Argentina. The project is in close proximity (15 km) to Neo Lithium's 3Q Project, and both projects are believed to share a common evaporitic climate and local geology, resulting in similar lithium and potassium enrichment.
Portofino conducted initial exploration programs in 2019 and 2021, which included surface and near-surface brine sampling, geological mapping, geophysical surveys, and geochemical sampling. Results indicated promising lithium and potassium values, as well as low magnesium-to-lithium ratios.
The company's plans for the Yergo Project include conducting an initial drill program to evaluate the volume and content of brines and sediments, followed by testing lithium samples with breakthrough, green-tech "Lithium-Ion Exchange" technologies.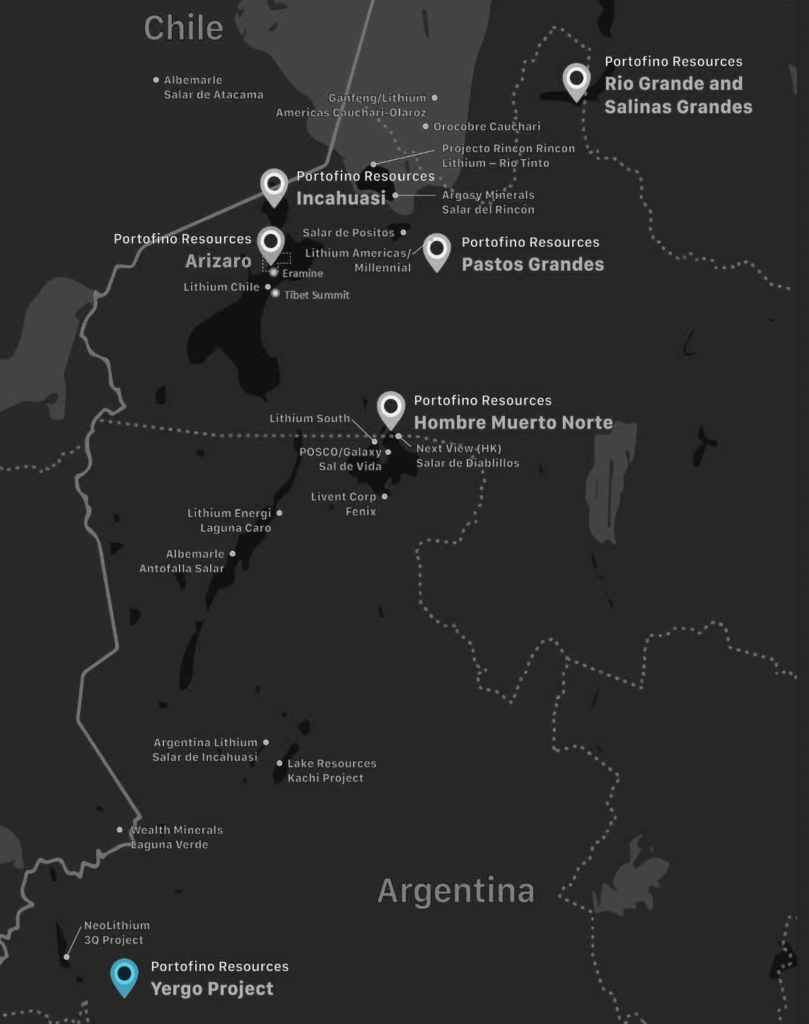 1. Prime Location within the Lithium Triangle
Yergo is located less than 15km away from Neo Lithium's Q3 project, boasting one of the lowest combined sulphate and magnesium impurities world wide. It is also one of the highest grades brines in the Argentina. Neo Lithium was acquired by Zijin Mining for C$960 million.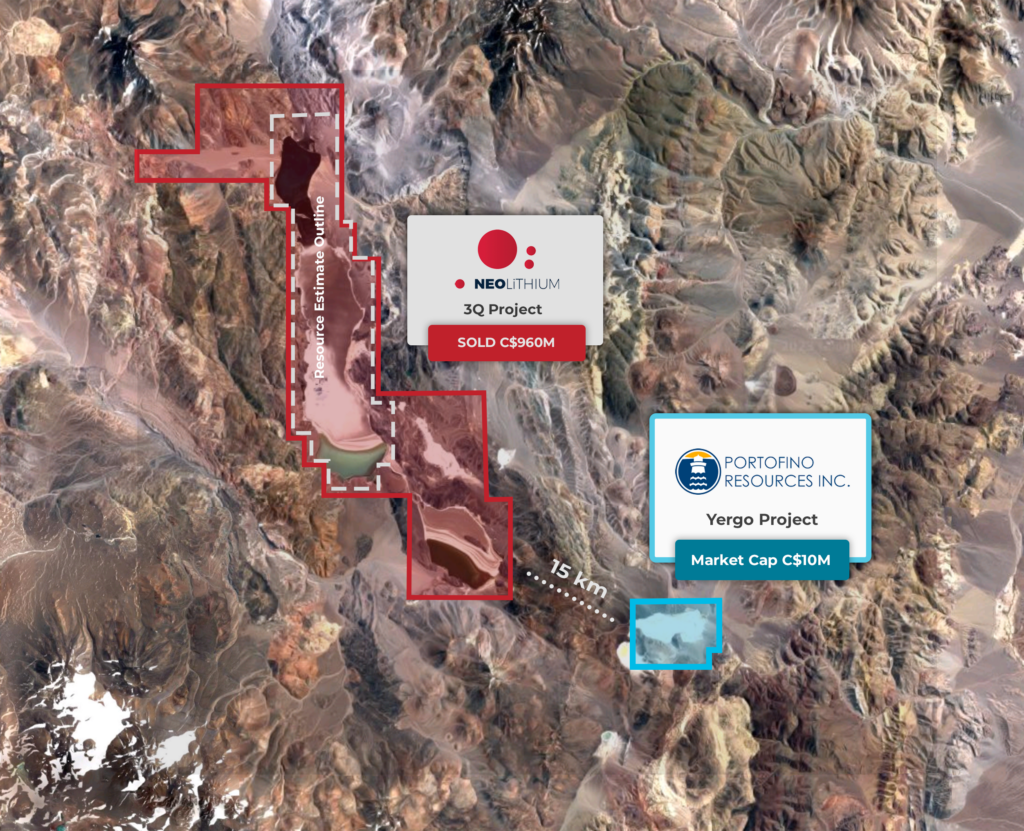 2. Encouraging Exploration Results: Up to 373 mg/L Lithium and 8,001 mg/L Potassium
Initial exploration programs have yielded promising results, with high lithium and potassium values and low magnesium-to-lithium ratios.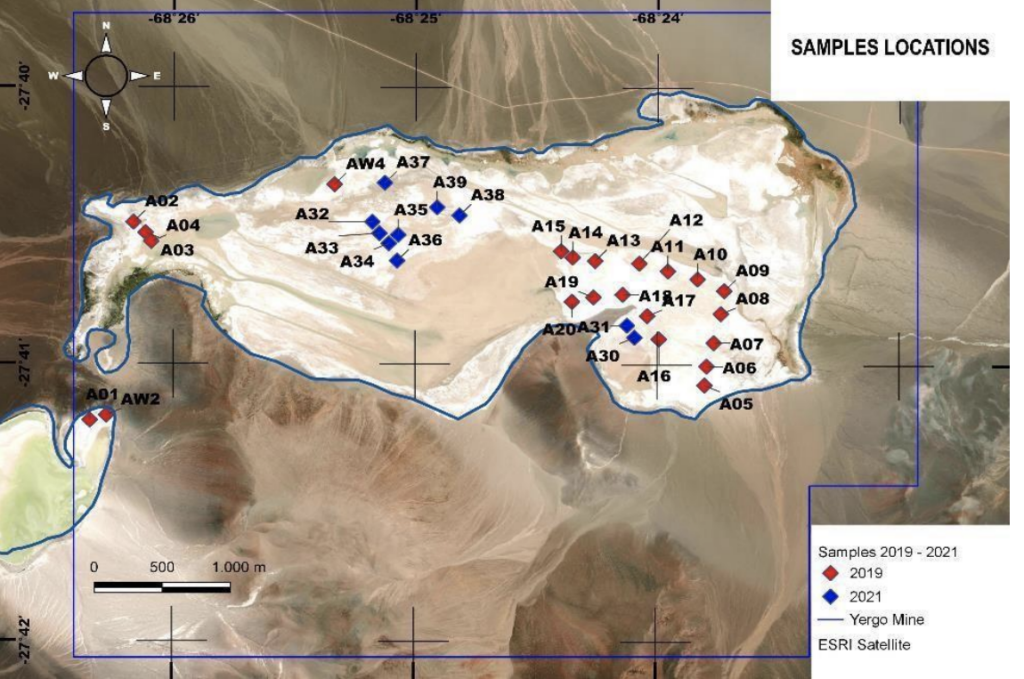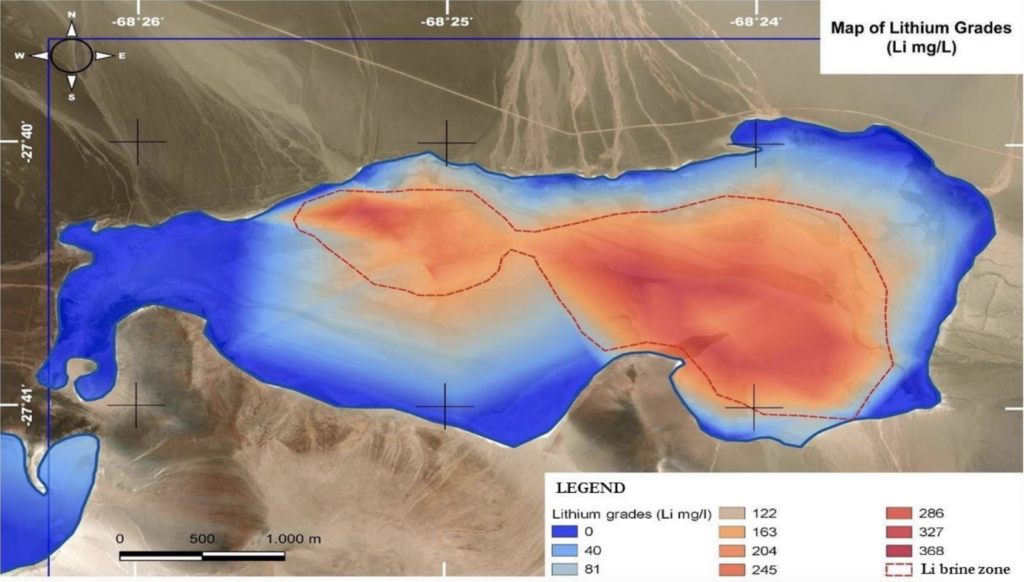 3. Focused on Sustainable Development and Extraction
Portofino's plans include conducting a drill program and exploring eco-friendly lithium extraction technologies for the Yergo Project
4. Portofino Acquires Yergo Lithium Project via Option Buyout
September 26, Portofino closed the acquisition of the drill-ready Yergo lithium project by way of option buyout. Portofino now controls 100% of the mineral rights and concession ownership for the 2,932-hectare Yergo Lithium Project, paving the way for the company to advance its drill permit application and initiate a 4-hole drill program.
"We are very happy to finalize this transaction, as it secures 100% ownership of the Yergo Lithium Project concessions. Our team is looking forward to working with the Ministry of Mining in Catamarca to expedite the drill permit application with a goal of initiating a drill program this fall. Additionally, I would like to thank all involved in completing this transaction." – CEO David Tafel
Portofino Resource's project:
Allison Lake North Project
Summary: The Allison Lake North Property in northwestern Ontario comprises 7 mining claims totaling 2,288 hectares and is situated near the contact between the Allison Lake pegmatite granite batholith and the Jubilee Lake metasedimentary rocks. Portofino Resources Inc. has conducted several sampling programs on the property, reporting encouraging results with lithium, rubidium, cesium, and tantalum concentrations. In 2023, the company plans to conduct further sampling and exploration, while also engaging with potential partners for the Allison Lake Project.
1. Encouraging Exploration Results
Portofino Resources has reported promising results from its exploration activities on the Allison Lake North Property, including up to 230 ppm lithium and 622 ppm rubidium from samples collected in 2022.
2. Key Attributes for Lithium-Bearing Pegmatites
The property contains significant attributes for the formation of lithium-bearing pegmatite dykes, and some samples have shown low Magnesium/Lithium ratios, indicating a high likelihood of lithium-bearing pegmatites.
3. Future Exploration and Partnerships
In 2023, Portofino aims to continue its exploration success with additional sampling and pegmatite channel exploration, while also actively engaging with potential partners for the Allison Lake Project.
Portofino Resources Inc. has five exploration stage gold projects in the Red Lake and Atikokan regions of Northwestern Ontario. The company is considering various transactions for its gold project portfolio in 2023, such as monetizing assets, forming joint ventures, or spinning out the projects into a new entity to enhance shareholder value.
1. Drill-Ready Projects in Promising Locations
Portofino Resources has two drill-ready projects: Gold Creek project (near Agnico Eagle's Hammond Reef Project) and South of Otter project (near Great Bear Resources, acquired in 2022 for $1.4B).
2. Gold Projects in Historically Rich Regions
The company's gold projects are located in the historically prolific gold-producing regions of Red Lake and Atikokan in Northwestern Ontario.
3. Exploring Opportunities for Portfolio Maximization
Improved investor sentiment toward gold in 2023 has led the company to explore various opportunities to maximize its gold project portfolio's value.
Mr. Tafel earned a Bachelor of Arts degree in Economics from the University of Western Ontario and brings more than three decades of expertise in corporate structuring, strategic planning, financing, and management to the organization. Throughout his career, he has served as an executive and board member for various private and public resource enterprises. Mr. Tafel has played a pivotal role in securing over $100 million in funding for companies in the resource, life sciences, and technology sectors. Additionally, he has managed private investment portfolios at Canada's leading independent securities firm.
Mr. Crawford earned a Bachelor of Commerce degree from the University of Toronto and possesses a wealth of experience as a top financial executive in both public and private firms, as well as a partner in a prominent chartered professional accountants firm. Currently, Brian holds various positions such as Director, Corporate Secretary, and/or Chief Financial Officer in several TSX-V and CSE listed companies. These include Colibri Resource Corporation, Searchlight Resources Inc., CBLT Inc., and Tempus Capital Inc.
In the mid to late 1990s, Mr. Wilkinson served as a mining analyst for RBC Dominion Securities Inc., based in Vancouver. Between 1999 and 2002, he held the positions of President, CEO, and director at Northern Orion Explorations Ltd. Over the years, Mr. Wilkinson has successfully founded and financed numerous private and public exploration enterprises. He holds a Bachelor of Science in Geology from the University of Western Ontario (1976), a Master of Science in Geology from Carleton University in Ottawa (1983), and an MBA from Clarkson University in New York (1995).
Mr. Wright, with 20+ years as President and CEO of Seatrend Strategy Inc., currently serves as a Director at Infinitum Energy, Westmount Minerals, and Centurion Minerals, and as CFO for several companies including Portofino Resources and Infinitum Energy. He previously held senior positions at Deloitte LLP and has extensive experience in corporate finance, cost and risk management, and governance across various sectors.
Interviewed by Global Business Reports and authoring articles for the Yukon Chamber of Mines, Mr. Wright is a Chartered Professional Accountant (Certified Management Accountant) and holds a Bachelor of Arts with honors in Environmental Economics from Brock University.
Mr. Alexander Molyneux stands out as a seasoned executive in the metals and mining domain with an impressive 25-year legacy.
At Argosy Minerals Ltd., Molyneux notably held the position of Chairman from 2018 to 2022. During his tenure, the company notably embarked on the Rincon Lithium Project in Salta, Argentina and successfully commissioned a battery-grade lithium carbonate facility.
In his time with Paladin Energy Ltd., he donned the CEO hat for three transformative years, marking a significant achievement with a US$700M recapitalization.
His entrepreneurial spirit shone with Azarga Uranium Corp., which he founded and directed to spearhead uranium projects both in the USA and Central Asia. This venture culminated in a noteworthy acquisition by EnCore Energy Corp. for C$200M.
His association with the Ivanhoe Group saw him in pivotal roles, especially as the CEO and Director of SouthGobi Resources Ltd. between 2009 and 2012.
Before his deep dive into the mining realm, Molyneux was a prominent figure at Citigroup. As the Managing Director and Head of Metals and Mining Investment Banking for Asia Pacific, he dedicated a decade catering to the needs of natural resource companies.
Mr. Molyneux's direct experience and success advancing Argosy's Rincon lithium project in Salta, Argentina should prove to be very beneficial to Portofino in its efforts to finance and advance a successful tender/bid proposal in the near term, related to the Arizaro Lithium Project.
Mr. Blake Steele stands out as a distinguished executive in the metals and mining sector, holding various directorial and advisory roles. His profound knowledge spans across public corporations and capital markets, consistently demonstrating an ability to enhance shareholder value in energy metal ventures.
At Azarga Uranium Corp., a TSX-listed uranium exploration and development entity, Mr. Steele excelled as the President and CEO. His leadership transformed Azarga Uranium into an advanced multi-asset firm, both organically and through M&A. This growth trajectory culminated in a significant milestone in February 2022 when EnCore Energy Corp. successfully acquired Azarga Uranium for C$200m.
Before his tenure at Azarga Uranium Corp., Steele's expertise was honed at SouthGobi Resources Ltd. (a subsidiary of the Ivanhoe Mines group). This Mongolian-centric energy metal entity benefitted from his contributions in various senior finance and corporate development capacities.
Mr. Steele's foundational career began at Deloitte & Touche. There, he immersed himself in both audit and financial advisory segments. As a testament to his academic and professional excellence, he holds designations as a Chartered Professional Accountant and Chartered Business Valuator in Canada. Furthermore, he boasts a Bachelor of Commerce (Hons) degree from the prestigious UBC Sauder School of Business.
In his current endeavors, Mr. Steele plays pivotal roles, either as a director or advisor, for several public enterprises within the metals and mining domain.
Graduating in 1985 with an Honors BSc in Geology from the University of Western Ontario, Mr. Kilbourne has amassed over 40 years of industry experience. His career encompasses various executive roles in junior resource companies, serving as a gold production geologist for open pit and underground mining, and managing long-term planning for 10+ simultaneous US aggregate operations. Mr. Kilbourne has overseen over 100,000 meters of diamond drilling in Archean precious and base metal projects and recently generated over 700 exploration targets across North America and Mexico for a private company.
Bruce, a key member of various discovery teams, brings over 37 years of exploration industry experience and proven management skills. His accomplishments include the discovery of the Eagle River Deposit near Wawa Ontario (Wesdome), the Sugar Zone Mine north of White River (Harte Gold), and the BAM Gold Deposit north of Armstrong (Landore). His expertise spans from grassroots to advanced projects.
Bruce has held positions as Geological Technician / Prospector at Noranda, Hemlo Gold, and Battle Mountain Gold, Project Manager at CanAlaska Uranium, and Exploration Manager at Noront Resources and Rare Earth Metals.
In the 2017 and 2018 field seasons, Bruce co-discovered several gold showings in the Hemlo area for Canadian Orebodies Inc.
Coleman, a Geoscientist in Training, earned his degree in Geology from McGill University in 2014. He began collaborating with Bruce MacLachlan in May 2017 and co-discovered several gold showings in the Hemlo area for Canadian Orebodies Inc. during the 2017 and 2018 field seasons. Over the past three years, Coleman has acquired significant geological experience exploring gold properties across Ontario, including locations in Hemlo, Red Lake, Wawa, Sioux Lookout, Shebandowan, and Atikokan.
Sebastian oversees the tactical execution of Argentine operations, encompassing community relations, vendor management, and local administration. With a degree in environmental engineering from the University of Buenos Aires and over 15 years of experience in the oil & gas and mining industries, Sebastian possesses valuable expertise. After living in Vancouver for a decade, he returned to Argentina in 2010 to serve as Country Manager for a junior mining company specializing in fertilizers, overseeing the company's startup. As an Argentine-Canadian, Sebastian's unique understanding of both countries' business practices enables him to effectively bridge professional and cultural divides.