Edison Lithium Drives Forward with Massive Lithium-Rich Land Package in Argentina
As the price of lithium continues to soar, Edison Lithium Corp. (TSXV:EDDY | OTCQB: EDDYF | FSE:VV00) sets its sights on a maiden exploration program at the recently acquired lithium brine projects in Argentina. 
Edison Lithium is a Vancouver, Canada-based junior mining exploration company that focuses on exploring for energy metals, primarily lithium and cobalt. As the company prepares to focus on lithium, it recently changed its name to Edison Lithium from Edison Battery Metals.
The company aims to build a portfolio of quality assets to meet the growing demand for energy metals in the battery industry.
Edison Lithium Acquires Massive Lithium-Rich Land Package in Argentina 
In June 2021, Edison Lithium acquired a 100% equity interest in Resource Ventures S.A., a Catamarca, Argentina-based lithium exploration company. Resource Ventures owned or controlled the rights to more than 148,000 hectares (over 365,700 acres) of prospective lithium brine claims in Argentina, primarily located in two geologic basins in northern Catamarca Province, Argentina known as the Antofalla Salar and the Pipanaco Salar. 

The properties in and around the Antofalla Salar basin consist of approximately 107,000 hectares (almost 264,400 acres) of semi-contiguous claims. The Pipanaco Salar consists of more than 41,000 hectares (over 101,300 acres) of claims, located approximately 50 km west of Catamarca city. 


Edison Lithium's initial emphasis will be on developing its properties at the Antofalla Salar. It also plans to continue searching for and acquiring mineral properties in locations with proven geological potential for lithium. 
..results suggested the presence of a 300-metre thick potential brine zone, which the company plans to drill to confirm quality and grades .
Lithium Explanation Plan for 2022
Earlier this month, Edison Lithium provided an update on the Environmental Impact Assessment (EIA) report for the prospecting phase of exploration that was submitted in November 2021. 
A total of 24 claims, covering about 100,000 hectares (247,105 acres) in the Antofalla Salar basin, were included in the report, which was submitted to the Provincial Government of Catamarca (Secretaría de Estado de Minería) in Catamarca, Argentina.
The plan of work included topography, mapping, geophysics using the transient electromagnetic (TEM) method, and sampling.
Previous geophysical results suggested the presence of a 300-metre thick potential brine zone, which the company plans to drill to confirm quality and grades. Edison Lithium believes that the geophysical survey results for certain claims are very likely to identify additional drilling targets and the brine in the basin could extend to even greater depths. 
Edison Lithium's properties are also offset on either side of Albermarle's holdings in the center of the Antofalla Salar. Albemarle has a market cap of $24.71 billion and revenue of $3.12 billion in 2021.
South American Lithium Triangle
The Lithium Triangle in South America is a geographic triangular area that covers parts of north-western Argentina, southern Bolivia, and central Chile over lithium-rich brine resources underneath salt flats.
According to the 2021 USGS Mineral Commodity Summary, South America contains the world's largest amount of lithium with over 60% of the world's lithium resources being found in Argentina, Bolivia, and Chile, but mining in the region only accounted for 32% of world production.
Although Australia, Chile, and China are the largest producers of lithium, the government of Argentina has created a favorable regulatory environment to help drive more lithium production.
Location, Location, Location
The Antofalla Salar is over 130 km long and hosts one of the largest lithium-bearing basins in the region. Edison Lithium's Antofalla Salar claims are located less than 20 km west of a lithium production site owned by Livent Corporation (NYSE:LTHM), Argentina's largest lithium producer in northern Catamarca Province. Livent has a market cap of $3.82 billion (C$4.79 billion) and revenue of $420.4 million in 2021.
Edison Lithium's properties are also offset on either side of Albermarle Corporation's (NYSE:ALB) holdings in the center of the Antofalla Salar. Albemarle has a market cap of $24.71 billion (C$30.97 billion) and revenue of $3.12 billion in 2021.
Other companies operating in the Antofalla Salar include Allkem Limited (ASX:AKE; MC:A$8.14 billion; Revenue:US$241.2 million), Galan Lithium Limited (ASX:GLN; MC:A$585.9 million; pre-revenue), Lake Resources NL (ASX:LKE; MC:A$2.66 billion; pre-revenue), and Posco Chemical Co. (KOSE:A003670; MC:$7.94 billion; Revenue:US$1.60 billion).
Less than 50 kilometres away from Catamarca city is the Pipanaco Salar project, which is in the very early stages of exploration. Only a few surface samples have been collected from the property. This salar is located at a much lower altitude when compared to Antofalla Salar. It was first drilled by the federal government of Argentina to identify new sources of freshwater.
Based on the previous drilling reports, the Pipanaco Salar holdings, located at only 700-750 metres above sea level, could be a favorable site to create a regional lithium extraction and processing facility.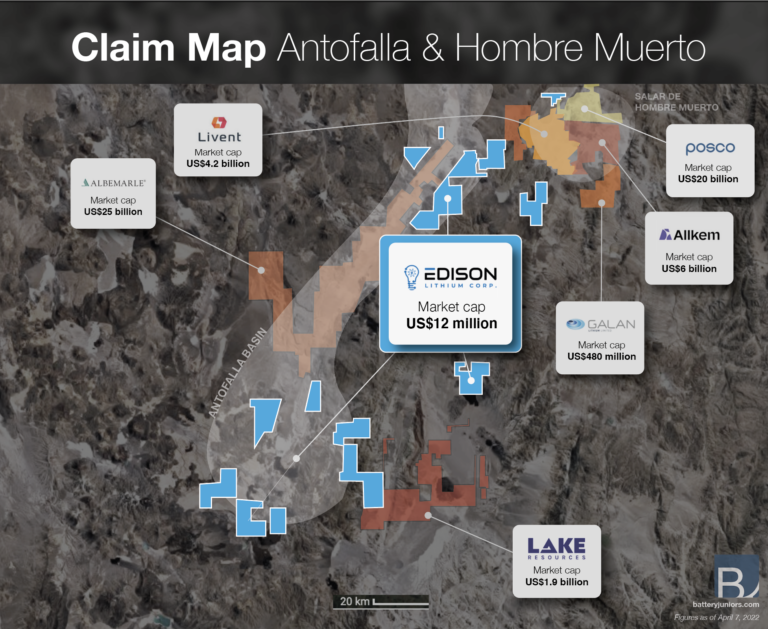 Edison's Claims in the Antofalla Salar
Lithium for EV Batteries
Lithium is a silvery-white and very soft metal that belongs to the group of alkali metals in the periodic table. The element has high reactivity and the lowest density. Because it becomes solid at room temperature, the metal is considered very suitable for use in batteries as an active material. 
There are three main sources of lithium: (1) brine, (2) hard rock deposits, and (3) clay. About half of global lithium is produced from groundwater brine enriched in dissolved lithium. The remaining lithium is mined from hard rocks where lithium minerals are hosted in pegmatites. Lithium-rich clay is also considered a good source of lithium, where the metal is extracted using ferric sulfate solutions, also known as the ion-exchange leaching process.
Lithium is used in a variety of industries to produce batteries, glass, ceramics, and power tools. The electric vehicles (EV) industry is the biggest consumer of lithium, which mainly requires the metal for the production of electric batteries. In 2020, the battery industry accounted for approximately 39% of the lithium demand.
EV sales in China increased over 150% to 3.2 million units in 2021 and are expected to reach 5 million units in 2022.
Lithium's Strategic Importance and Pricing
As governments embrace a greener economy and EVs continue to be a part of the solution, lithium's importance as a strategic metal will increase, and demand for the "white gold" should continue to rise.  
Lithium-ion battery technology has transformed the EV industry since it is rechargeable but lightweight and can store large amounts of energy. 
With the demand for lithium-ion batteries increasing exponentially over the past few years, the price of battery-grade lithium carbonate doubled from 2020 to 2021 and was up over 70% year to date. 
As an example market demand, EV sales in China increased over 150% to 3.2 million units in 2021 and are expected to reach 5 million units in 2022. According to a recent report published by Bloomberg New Energy Finance, EV sales are expected to grow almost 25% annually and reach 40 million units sold by 2030.
Unfortunately, the lithium supply is lagging behind the ever-growing demand for lithium, and the price of lithium is expected to increase even more in the near future.
Cobalt
Another battery metal is cobalt and Edison Lithium was an early mover as it acquired a 100% interest in the Kittson Cobalt Property in January 2017.
The Kittson Cobalt property comprises approximately 1,090 hectares (over 2,690 acres) and is located near the town of Cobalt in northeast Ontario, Canada. It is home to the historic Thomas Edison, Shakt-Davis, and Cobalt-Kittson mines. 
Historic reports from the Shakt-Davis mine indicated values of 1.5% cobalt over 1.37 metres and select grab samples returned up to 4% cobalt and 93.3 grams per tonne gold. 
A 21-hole drill program in 2018 at the Kittson cobalt project, validated historical information with results that included 0.34% cobalt over 2.65 metres, including 0.98% cobalt over 0.35 metres, and 0.46% cobalt over 2.05 metres. 
The project also benefits has numerous historic workings and over 2,500 feet of lateral workings with the deepest extending down to 628 feet.
Final Thoughts
With a market cap of only C$15 million, Edison Lithium trades at a severe discount to its exploration peers considering the size of its land package.
The Lithium Triangle strategic importance continues to attract significant foreign investment interest as companies and countries seek to gain control of the lithium supply chain.
With control of more than 148,000 hectares of prospective lithium brine claims, Edison Lithium is in a good position to capitalize on any lithium supply shortfall.
NO INVESTMENT ADVISE THE INFORMATION PROVIDED IN THIS ARTICLE DOES NOT CONSTITUTE INVESTMENT ADVICE, FINANCIAL ADVICE, TRADING ADVICE, OR ANY OTHER SORT OF ADVICE AND YOU SHOULD NOT TREAT ANY OF THE WEBSITE'S CONTENT AS SUCH. BATTERYJUNIORS DOES NOT RECOMMEND THAT ANY FINANCIAL INSTRUMENT SHOULD BE BOUGHT, SOLD, OR HELD BY YOU. DO CONDUCT YOUR OWN DUE DILIGENCE AND CONSULT YOUR FINANCIAL ADVISOR BEFORE MAKING ANY INVESTMENT DECISIONS. At the time this article was originally posted, Edison Lithium Corp was an advertiser on Batteryjuniors.com. ACCURACY OF INFORMATION BATTERYJUNIORS WILL STRIVE TO ENSURE ACCURACY OF INFORMATION LISTED IN OUR CONTENT ALTHOUGH IT WILL NOT HOLD ANY RESPONSIBILITY FOR ANY MISSING OR WRONG INFORMATION. BATTERYJUNIORS PROVIDES ALL INFORMATION AS IS. YOU UNDERSTAND THAT YOU ARE USING ANY AND ALL INFORMATION AVAILABLE IN THIS ARTICLE AT YOUR OWN RISK. NON-ENDORSEMENT THE APPEARANCE OF THIRD-PARTY ADVERTISEMENTS AND HYPERLINKS ON CONTENT PRESENTED BY BATTERYJUNIORS DOES NOT CONSTITUTE AN ENDORSEMENT, GUARANTEE, WARRANTY, OR RECOMMENDATION BY BATTERYJUNIORS. DO CONDUCT YOUR OWN DUE DILIGENCE IN REGARD TO THE INFORMATION PROVIDED.