As the world accelerates its transition to sustainable energy solutions, electric vehicles (EVs) and renewable energy storage are leading the charge. Central to this transformation is lithium, a vital component for rechargeable batteries in EVs. Amidst a myriad of lithium explorers and producers, Lithium South Development Corp emerges as a prime candidate for investors.
Strategic Positioning and Valuation
Lithium South Development Corp stands out in the burgeoning lithium market. The escalating demand for electric vehicles and renewable energy storage solutions has led to a competitive landscape, making it crucial to discern the intrinsic value of a company by delving into its assets, strategic positioning, and future potential.
The Hombre Muerto North Lithium Project (HMN Li Project) in Argentina is a testament to the company's foresight and strategic planning. This isn't just another mining site; it's a strategic asset located in a region globally acclaimed for its vast lithium resources.
Argentina's significance in the global lithium landscape is paramount. As part of the 'Lithium Triangle'—which also includes Chile and Bolivia—Argentina is a linchpin in lithium production. This triangle, known for its unique high-altitude salt flats hiding extensive subsurface lithium brines, accounts for over half of the world's lithium output. Lithium South Development Corp, positioned in this pivotal region, enjoys both qualitative and cost advantages in lithium extraction.
From a valuation perspective, while many lithium companies have experienced soaring stock prices due to the electric vehicle revolution, Lithium South Development Corp appears undervalued. This discrepancy between intrinsic value and market price often signals an opportunity for discerning investors. An undervalued entity in a sector poised for exponential growth can yield significant returns, especially if the company realizes its exploration and development goals.
Recent Developments and Expansion
Lithium South Development Corporation has been making significant strides in its exploration of the HMN Li Project, in particular, with its resource expansion program. The company recently reported a remarkable 175% increase in the lithium resource at the HMN Li Project. This resource encompasses the Alba Sabrina, Natalia Maria, and Tramo claim blocks, with an average grade of 736 mg/L lithium which is favorable for industry proven evaporation lithium extraction.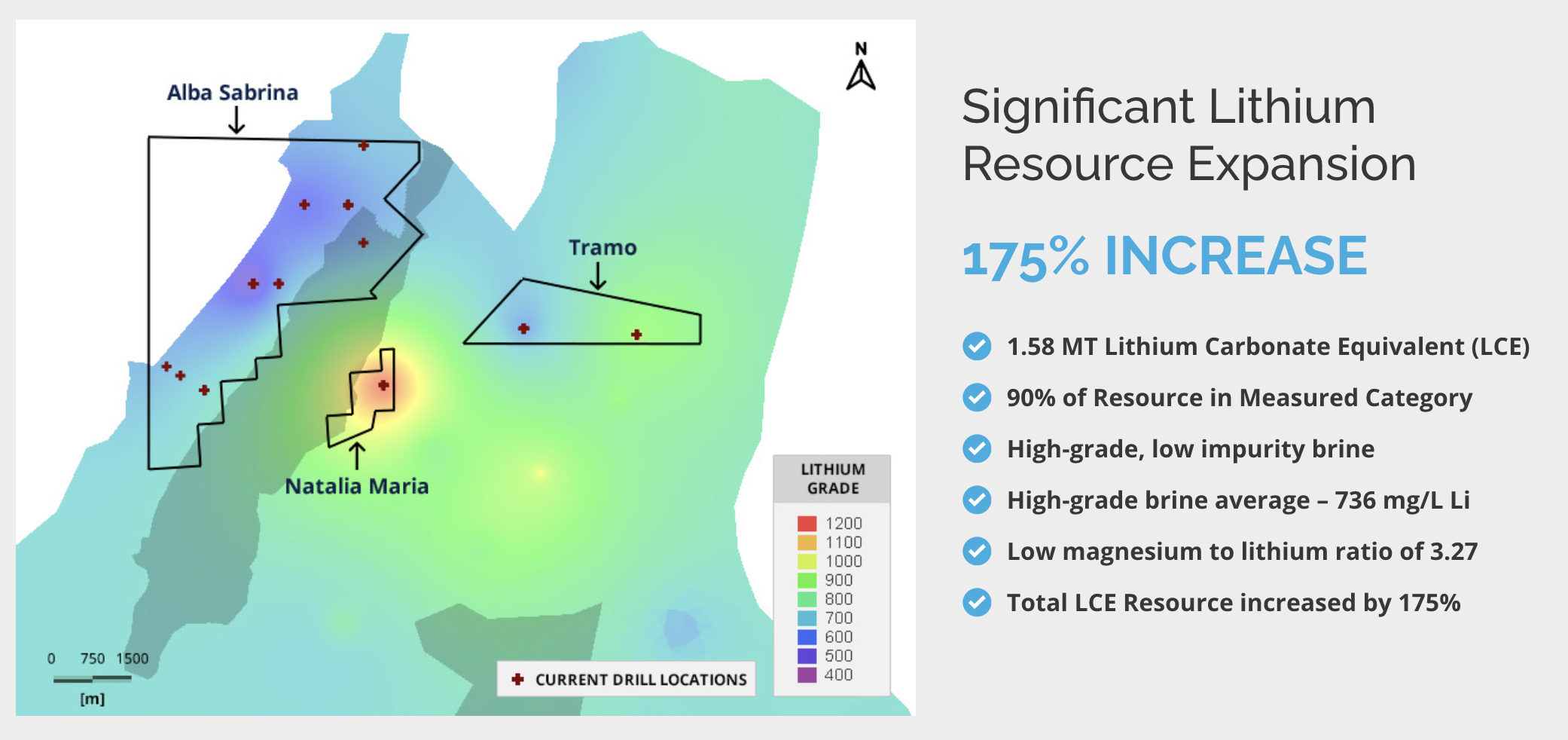 Building on this momentum, the company initiated a pumping/production well drilling campaign at the HMN Li Project in Salta, Argentina. This Phase One program includes drilling three wells, with each well fitted with screen filters and blind casing. The results from these wells will be instrumental for the upcoming Feasibility Study. Early results from core drilling at the Natalia Maria claim block have been promising, with a lithium concentration exceeding 1,175 milligrams per liter.
In addition, Lithium South Development is reviewing technical data associated with the southern Viamonte and Norma Edit claim blocks, evaluating them for potential production well installation during this drilling campaign.
Argentina's Lithium Landscape
Argentina's ascent in the global lithium market is both rapid and significant. Currently positioned as the fourth-largest lithium producer, the nation is on a trajectory to claim the third spot by 2027. With three active mines and an impressive 38 projects in the developmental phase, Argentina's lithium carbonate equivalent (LCE) production is projected to leap from the current 34,000 tonnes annually to an astounding 260,000 tonnes by 2027 according to CRU mining and metals consultant Marcelo Bolton.
Argentina's lithium potential is further underscored by the presence of major projects that are soon to commence operations, such as Zijin Mining's Tres Quebradas, Eramet-Tsingshan's Centenario-Ratones, Ganfeng-Lithium Americas' Caucharí- Olaroz, and Posco's Sal de Oro. These projects, combined with the nation's strategic position in the 'Lithium Triangle', emphasize Argentina's pivotal role in shaping the future of global lithium production.
The Argentine Lithium Acquisition Frenzy
The global lithium market has witnessed a flurry of high-profile acquisitions, particularly in Argentina, underscoring the country's pivotal role in the lithium supply chain. Zijin Mining set the stage by acquiring Neo Lithium Corp and its Argentine lithium project for a staggering US$705 million (CAD$960 million). This was closely followed by Rio Tinto's acquisition of the Rincon lithium project in Argentina for US$825 million (over CAD$1.12 billion). China's Ganfeng Lithium continued the trend by securing the Lithea lithium project in Argentina for US$962 million (CAD$1.3 billion).
However, it's not just the industry giants making significant moves in Argentina. Lithium Americas recently invested US$227 million (CAD$308 million) to acquire Arena Minerals' 65% stake in the Sal de la Puna project. This came shortly after their US$400 million (CAD$491 million) acquisition of Millennial Lithium, another Argentine-based project.


Adding to the acquisition spree, Spain's Tecpetrol Investments has tabled an increased all-cash offer of C$293 million for Alpha Lithium's projects situated in the Tolillar and Hombre Muerto salt flats in Argentina. Notably, Alpha Lithium's new indicated resource for the Tolillar project stands at 3.626M tonnes LCE with an average grade of 232 mg/L Lithium. This grade likely necessitates Direct Lithium Extraction (DLE) processing, as opposed to conventional evaporation, introducing higher technical risks.
Market Comparisons and Valuation Insights
The recent acquisition bid for Alpha Lithium by Tecpetrol provides a valuable benchmark for assessing the potential of Lithium South Development Corp. The grade of lithium at the HMN lithium Project, averaging 736 mg/L, is notably higher than that of Alpha Lithium's Tolillar project. Furthermore, a significant 90% of the HMN Li Project's resource falls into the 'Measured' category, providing investors and potential suitors with an elevated degree of assurance.
Adding to the comparative advantages of the HMN lithium project, the DLE processing requirement for Tolillar's grade introduces a layer of complexity. As the dynamics of the lithium market shift, these comparative insights become essential for investors seeking opportunities that are both undervalued and have minimized technical risks. Lithium South Development Corp. looks to be one of those opportunities.
Final Thoughts
With its strategic asset, prime location, and undervalued market stance, Lithium South Development Corp presents a compelling investment proposition currently trading with a market cap around C$40 million. As the global momentum shifts towards sustainable energy and transportation, coupled with the rising M&A activity for Argentine Lithium assets, forward-thinking companies like Lithium South Development Corp are poised to lead the way. For investors looking to tap into the future of energy, this company should be a top consideration.
---
Mr. William Feyerabend, a Consulting Geologist and Qualified Person under N.I. 43-101, participated in the writing of this advertisement and approves of the scientific and technical content.
The content of this article is for informational purposes only and should not be construed as investment advice. It is always recommended to conduct your own research and consult with a financial advisor before making any investment decisions. Additionally, this article has been sponsored by Lithium South, and is part of an ongoing advertisement contract budgeted for a total cost of €100,800 (news release September 14, 2023) This advertisement is not an offer to buy or sell securities.