The lithium industry in Argentina has seen significant growth and transformation over recent years. With various projects launching, selling, or continuing their operations, the landscape is constantly evolving. Here's a closer look at the latest trends, based on the infographic data as of October 12, 2023: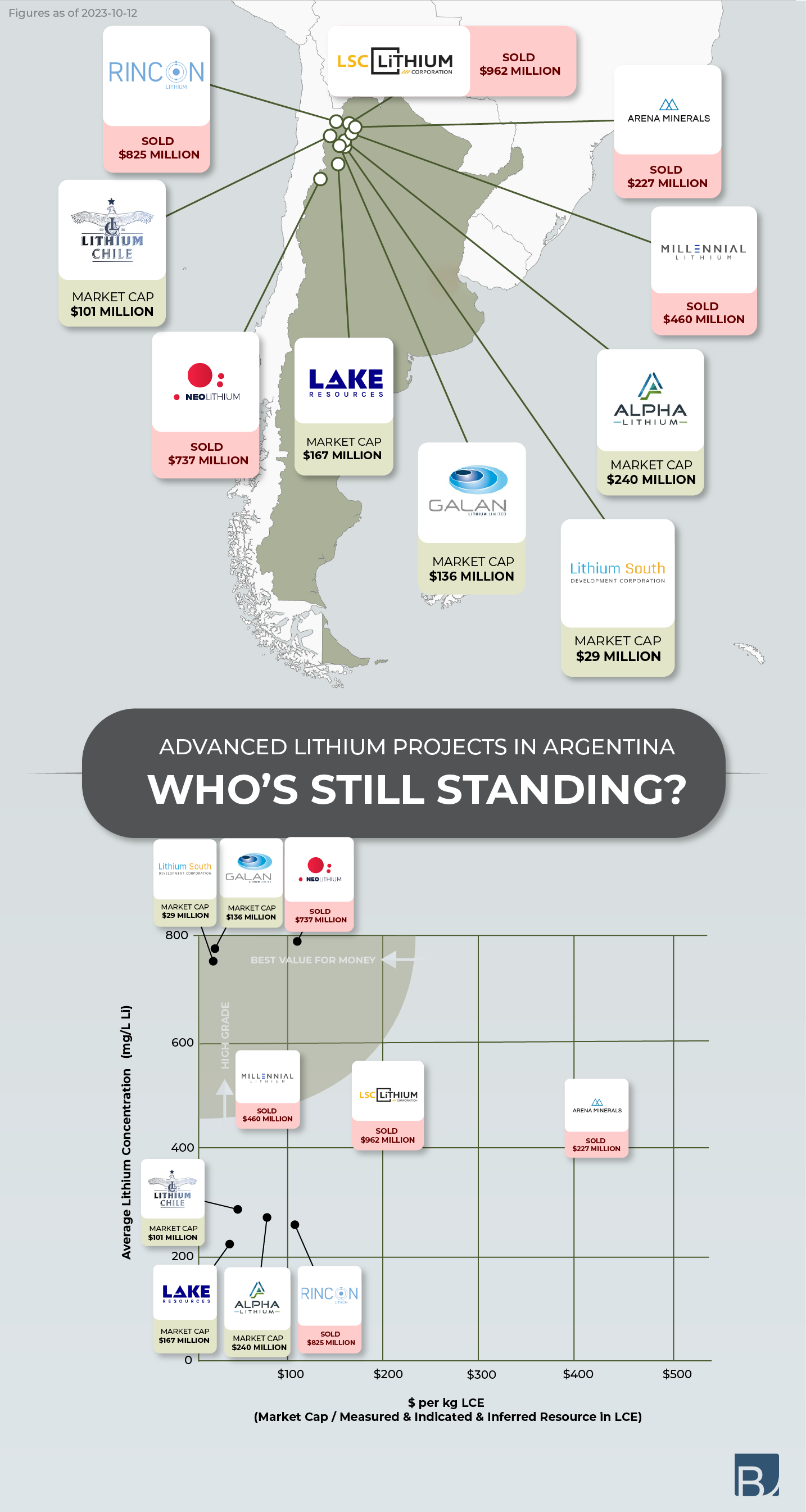 Key Insights:
Sold Projects: Some of the major projects that have been sold recently include:

Rincon Lithium sold for a whopping $825 million.
LSC Lithium Corporation had a transaction value of $962 million.
Arena Minerals was acquired for $227 million.
Neo Lithium changed hands for $737 million.
Millennial Lithium was sold for $460 million.

Market Caps: The standing projects in Argentina's lithium landscape and their current market caps are:

Lithium Chile at $101 million.
Lake Resources stands at $167 million.
Galan Lithium is valued at $136 million.
Alpha Lithium holds a market cap of $240 million.
Lithium South Development Corporation is valued at a modest $29 million.

Best Value for Money: The graph showcases the average lithium concentration (measured in mg/L) plotted against the dollar value per kilogram of LCE (Lithium Carbonate Equivalent). It essentially reflects the value for money in terms of resource concentration & how large the total resource is in relation to the company's market capitalization.
Final thoughts
Argentina's lithium industry continues to flourish with multiple companies advancing their projects. While several big players have been acquired, others are still standing strong, showcasing their potential in terms of lithium concentration and market value. Investors and stakeholders should keep a close eye on this vibrant market, as Argentina's lithium reserves promise to play a pivotal role in the global shift towards sustainable energy and electric mobility.