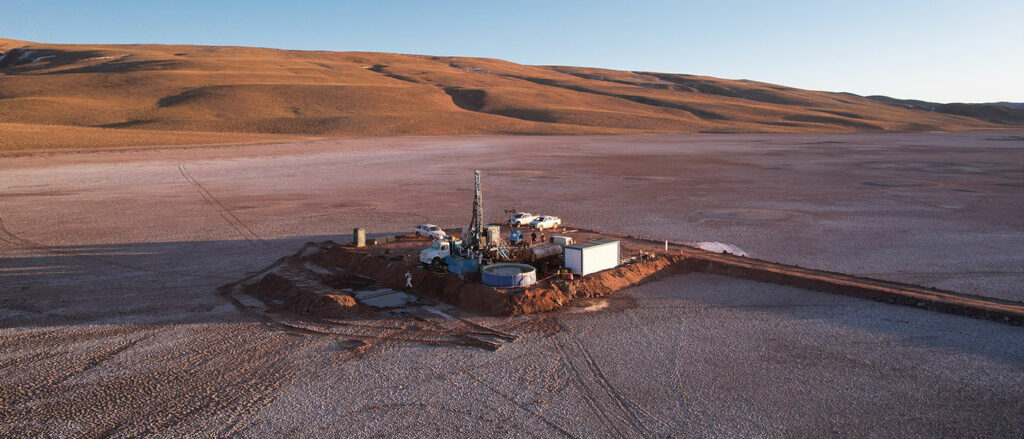 Image: Drill rig from Alba Sabrina signifying the successful completion of the resource expansion drill program
The electric vehicle (EV) industry is in a state of rapid evolution, and central to this transformation is lithium. As stakeholders eagerly watch for industry updates, a Company changing announcement from Lithium South Development Corporation has just emerged.
A recent article from Equedia spotlighted the Lithium Triangle, a region spanning Bolivia, Argentina, and Chile, as a pivotal source of global lithium reserves. Within this lithium-rich triangle, the article introduced Lithium South Development Corporation and its project in Argentina's Hombre Muerto Salar, emphasising its potential as one of the most undervalued, high quality lithium assets in the Lithium Triangle.
The company's latest data from its Hombre Muerto North Lithium Project (HMN Li Project) in Argentina go beyond a mere update. This groundbreaking shift not only reshapes the company's future path but also positions them as a potential powerhouse in the lithium production sector, as the Company transitions from explorer to developer.
The Announcement That's Turning Heads:
In the announcement, Lithium South Development Corporation has unveiled:
A monumental 175% increase in total lithium brine resource, increasing that to an impressive 1,583,100 tonnes of Lithium Carbonate Equivalent (LCE).
90% of this resource is now categorised as Measured, showcasing the company's rigorous exploration methods and the reliability of their findings.
The lithium's high average grade of 736 mg/L and a notably low magnesium to lithium ratio of 3.27 render this brine perfect for evaporative extraction. This underscores the premium quality of the resource,renders it as a top tier lithium brine deposit.
This significant increase was achieved following the completion of a 10-hole resource expansion drill program and a thorough evaluation by Groundwater Insight Inc. (GWI) of Halifax, Nova Scotia, Canada. The resource is a combination of the in situ contained lithium at the Alba Sabrina, Natalia Maria, and Tramo claim blocks. The total resource has dramatically increased from 571,000 tonnes to 1,583,100 tonnes LCE, showcasing the company's successful exploration strategies.
We are very pleased with our new updated lithium resource at the HMN Li Project. The quality of the brine has exceeded our expectations.

Company C.O.O. and Project Manager, Fernando Villarroel
Immediate Implications for Shareholders:
This announcement is a significant trigger for shareholders. It's a testament to the company's commitment, expertise, and the potential return on investment. The substantial increase in resources and the high quality of the lithium indicate a promising future for the company's stock value and its position in the global lithium market.
What This Means for the Broader Lithium Landscape
The Equedia article had already spotlighted the Lithium South Development Corporation as a undervalued lithium player with great upside. Today's announcement confirms and magnifies this prediction. With such a significant resource update, the company is poised to quickly move ahead to a Feasibility Study in the coming months, adding further value to the Company.
Looking Ahead:
The company's disciplined approach is evident in its upcoming initiatives:
A detailed Technical Report by GWI is on the horizon, which will delve deeper into the company's resources, offering further insights and solidifying its position in the industry.
The initiation of production wells and a long term pump testing program are a key party to the development plan..
The company's focus on the permitting process and evaporation test work ensures alignment with environmental standards, further enhancing its reputation and appeal to eco-conscious investors.
Adrian F. C. Hobkirk, expressing his excitement, hinted at an expansive mining plan, signalling ambitious growth and expansion strategies in the pipeline:
"We are very excited to be able to increase our total LCE resource by such a wide value. With the increase in overall resource, we look forward to developing a larger mining plan."

CEO Adrian F. C. Hobkirk
Lithium South: A Rising Star
Today's announcement from the Lithium South Development Corporation is more than just news; it's a pivotal moment for the company, its shareholders, and the lithium industry at large. As the demand for lithium continues to surge, this update positions the company at the forefront, ready to lead and innovate. Shareholders and potential investors should keep a keen eye on this rising star in the lithium world.
The content of this article is for informational purposes only and should not be construed as investment advice. It is always recommended to conduct your own research and consult with a financial advisor before making any investment decisions. Additionally, this article has been sponsored by Lithium South, and is part of an ongoing advertisement contract budgeted for a total cost of €100,800 (news release September 14, 2023) This advertisement is not an offer to buy or sell securities.
Mr. William Feyerabend, a Consulting Geologist and Qualified Person under N.I. 43-101, participated in the writing of this advertisement and approves of the scientific and technical content.