Disclaimer: This article was originally published on Equedia. All rights and credits belong to the original authors and the source website
Why this company could be the next big lithium buyout.
18 minute read
Records are meant to be broken – but not this badly.
After a record-breaking 2022, THIS industry is on pace to smash that record by a whopping 35% this year.
And it's not even close to slowing down.
Yes, I am talking about electric vehicles – but even THAT is just the beginning.
According to the International Energy Agency (IEA), more than 10 million electric cars were sold worldwide last year.
This year, sales are expected to surpass 14 million cars.
The electric cars' share of the overall car market has risen from just 4% in 2020 to 14% in 2022 and is set to increase further to 18% this year, based on the latest IEA projections.
By 2030, the IEA estimates that electric vehicles will represent 60% of vehicles sold globally.
But such a rapid rise can't happen without the proper infrastructure to support this massive amount of new electric energy requirements.
If you think the market for electric vehicles is growing fast…
Energy Storage Market
The energy storage market hit another record last year, up a whopping 68% from 2021.
But that's just the tip of the iceberg.
By 2030, the global energy storage market is expected to grow more than 15 times!
Take a look: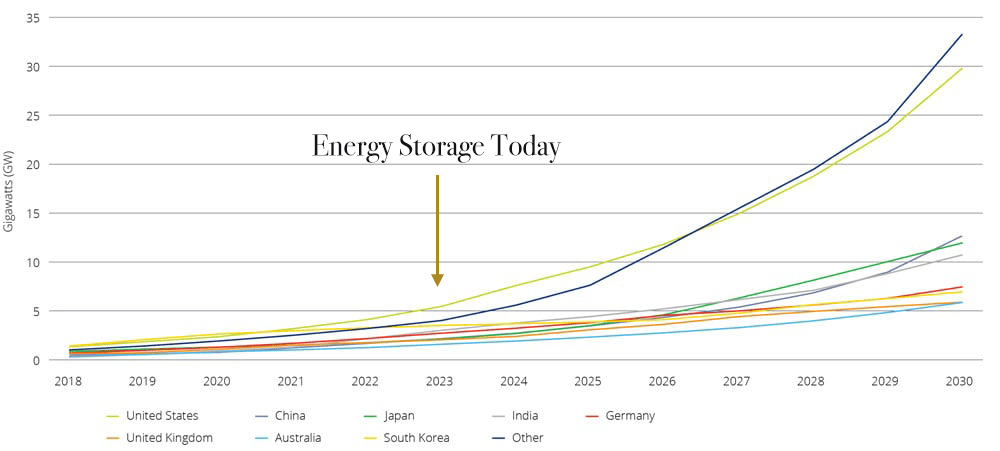 With governments worldwide shelling out trillions into this new electric economy, these insane numbers could become reality.
This represents a massive investment opportunity.
But while you could invest in electric vehicles or other electric technologies, there is one thing that is an absolute requirement for all of this to work.
Lithium
This should come as no surprise.
In fact, many of you likely have profited from one of our past lithium ideas which was bought out not long ago for US$400 million.
But things are moving faster than ever before.
The race to secure lithium supply is officially in overdrive.
And the numbers don't lie.
In the last year alone, the buying frenzy for high-grade lithium projects have exploded.
First, Zijin Mining acquired Neo Lithium Corp and it's Argentina lithium project for a whopping US$705 million (CAD$960 million).
Then came Rio Tinto who bought the Rincon lithium project in Argentina for US$825 million (over CAD$1.12 billion).
Not to be outdone, China's Ganfeng Lithium acquired the Lithea lithium project, also based in Argentina, for US$962 million (CAD$1.3 billion.)
And it's not only the big players participating in the buying spree.
Lithium Americas spent US$227 million (CAD$308 million) to buy Arena Minerals' 65% ownership of the Sal de la Puna project. If you recall, they just spent US$400 million (CAD$491 million) buying one of our past featured companies, Millennial Lithium. And yes, all of these projects are in Argentina.
Meanwhile, Spain's Tecpetrol Investments just made an all-cash offer of C$241 million ($178m) for Alpha Lithium's projects in the Tolillar and Hombre Muerto salt flats – yes, also in Argentina.
As you can see, not only is the race for lithium supply coming to a head, but the race is even tighter for high-quality, high-grade lithium assets – especially those in Argentina.
The problem for investors is that most of the remaining lithium projects in Argentina already belong to big players. And the few that remain, such as Alpha Lithium, already command high valuations.
This is why many are turning to riskier lithium assets outside of Argentina.
But what if I told you there is a little-known lithium company in Argentina with high grade brines that has flown under the radar?
What if I told you that this company has one of the highest grade lithium projects in the world?
What if I told you that this company sits smack in the middle of a massive lithium project currently being built by a major?
I am sure you'd be interested.
Well, of course, there is.
And, most importantly, this company is trading at a market cap of less than US$37 million (CAD$50 million).
That's 5X less than its remaining and closest peers.
But if what the company has been anticipating happens, I don't think it will be trading at these levels for long.
Anytime now, this Company is about to announce something BIG.
This "something" will most certainly reshape the company's valuation – which is already low by market standards.
It has the right address. It has the right grade. It has a number of NDAs with big industry players who are sniffing around in the data room.
Most importantly for investors, it has a very noteworthy lithium project – one that I believe could become the next takeover target.
Introducing…