As Latin American countries, including Chile, Brazil, and Argentina, aim to build up their own lithium supply chains and industries, the EU looks to collaborate with the region to meet its growing demand for lithium. The "lithium triangle" of Argentina, Chile, and Bolivia, holding significant lithium reserves, becomes a focal point for cooperation between the EU and Latin America to ensure a stable supply of lithium.
Here are 4 stocks set to thrive as a result:
1. Lithium South Development Corp.
Market Cap: $43.60M
Project: Hombre Muerto North Lithium Project (HMN Li Project) in Salta Province, Argentina
Lithium South Development Corp. is making significant strides in the development of its Hombre Muerto North Lithium Project, located in Salta Province, Argentina. The recent contract with Well Drilling of Salta, Argentina, for the provision of three pumping wells for the HMN Li Project indicates the company's commitment to fast-tracking the development path. With five production wells across different claim blocks, Lithium South is well-positioned to carry out long-term pumping tests and determine the project's overall production potential. This progress positions the company to take advantage of the EU's interest in collaborating with Latin American lithium suppliers.
Latest News Release: https://ca.finance.yahoo.com/news/production-well-program-contracted-120000996.html
2. Portofino Resources Inc.
Market Cap: $5.33M
Projects: Argentine and Canadian lithium and gold exploration projects
Portofino Resources Inc. holds a diverse portfolio of lithium and gold exploration projects in Argentina and Canada. The company's focus on advancing Argentine lithium brine prospects aligns with the objectives of Latin American countries to develop their lithium supply chains. Additionally, their initiatives to monetize Canadian assets and potentially spin-out the Canadian projects into a new entity demonstrate their commitment to value creation. As the EU seeks partnerships with Latin American lithium producers, Portofino's presence in Argentina positions them well to benefit from potential collaborations.
Latest News Release: https://ca.finance.yahoo.com/news/portofino-announces-fully-subscribed-508-210700115.html
3. Alpha Lithium Corporation
Market Cap: $251.04M
Projects: Tolillar and Hombre Muerto Salars in Argentina
Alpha Lithium Corporation has seen substantial increases in indicated and inferred lithium carbonate equivalent (LCE) resources in the Tolillar Salar, Argentina. The company's resource estimate reveals the high-quality nature of their asset, making it an attractive prospect for collaboration with the EU. Alpha's ongoing strategic review process has garnered interest from multinational parties, further emphasizing the potential value of their lithium resources. The company's operations and assets being fully managed by Alpha Lithium Argentina SA and Alpha Minerals SA demonstrate their commitment to local involvement, aligning with the EU's emphasis on sustainable and responsible industry practices.
Latest News Release: https://ca.finance.yahoo.com/news/alpha-lithium-significantly-increases-tolillar-070500930.html
4. Lithium Chile Inc.
Market Cap: $164.98M
Projects: Salar de Llamara and Salar de Arizaro in Chile and Argentina
Lithium Chile Inc. is actively advancing its exploration efforts in both Chile and Argentina. Drilling has commenced on the Salar de Llamara, Chile, representing an exciting opportunity for the company to advance its lithium projects. The initial hole, POZO LL-01, is already making progress in this four-well program designed to explore targets identified by a 74 km TEM Geophysical program. Furthermore, the company reports a significant increase in lithium grades following a resampling program on the Salar de Arizaro, Argentina, further adding to the company's potential value in the lithium market. Lithium Chile's active exploration programs in two of the three countries within the lithium triangle make them a preferred partner for the EU's lithium collaboration initiatives.
Latest News Release: https://ca.finance.yahoo.com/news/lithium-chile-begins-drilling-first-120043473.html
---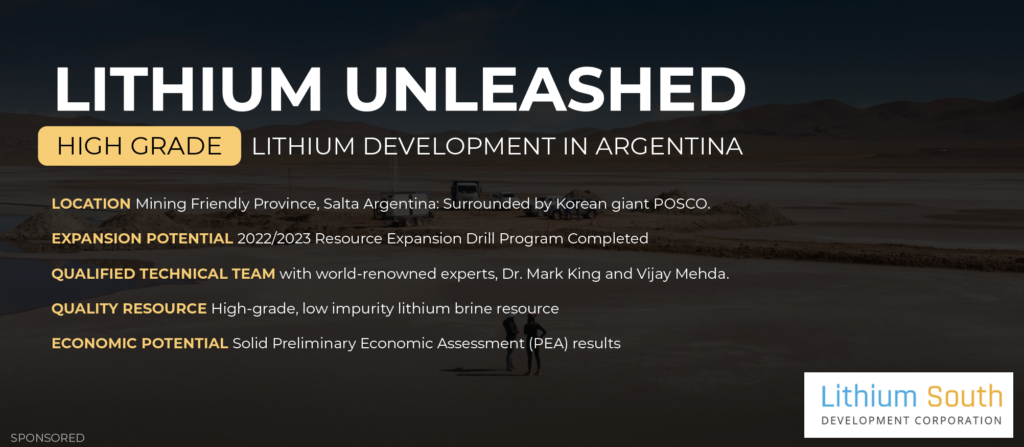 Previous Article: https://batteryjuniors.com/2023/07/19/top-lithium-producing-countries-2023/