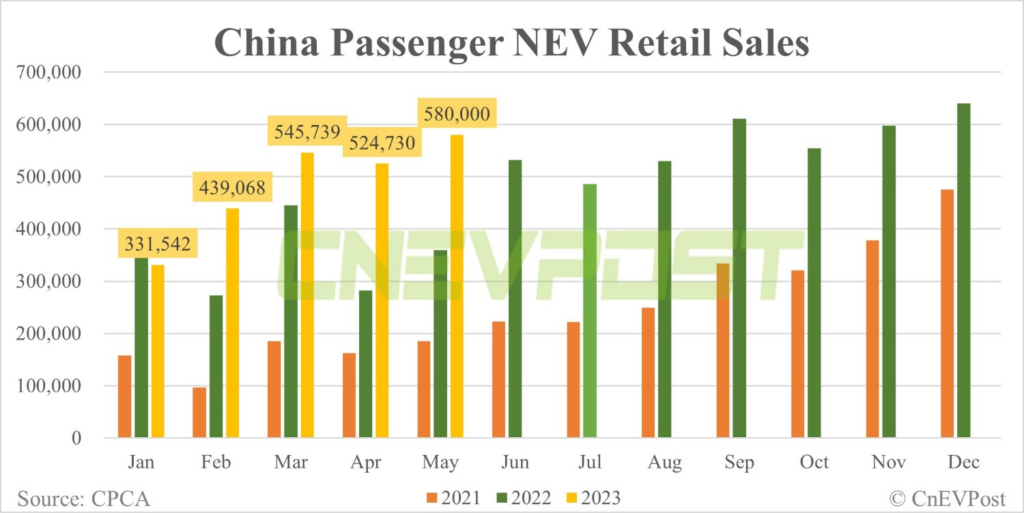 The global electric vehicle (EV) market is witnessing a significant growth phase, with China at the forefront. This article provides a concise overview of the latest trends and developments in the EV industry.
China's EV Market: A Powerhouse of Growth
In May 2023, Tesla reported a 2.4% increase in the sales of its China-made EVs compared to April, delivering 77,695 vehicles. This represents a 142% rise from May 2022, when the company's Shanghai factory was still affected by COVID-19 containment measures. However, Tesla's growth is not the only story in the Chinese EV market. BYD Co Ltd, a Chinese automaker, reported sales of 239,092 vehicles in May, marking a 14% increase from April. BYD's market share in the first quarter of the year was 21.1%, outpacing Tesla's 16%.
Retail sales of new energy passenger vehicles (NEVs) in China were 580,000 units in May, up 60.9% year-on-year and up 10.5% from April. Battery electric vehicles (BEVs) accounted for 66.9% of all NEV retail sales, while plug-in hybrid vehicles (PHEVs) contributed 33.1%.
Global EV Market: A Rapid Transition
Globally, one in every seven cars sold during the first quarter of 2023 was an EV. The growth in EV sales is expected to continue, with projections suggesting that EV sales could reach over 14.5 million units by the end of 2023. The U.S. has surpassed Germany to become the world's second-largest EV market, while China continues to lead.
The Role of Battery Technology and EV Metals
The EV industry's growth is closely tied to advancements in battery technology and the availability of EV metals. In the first quarter of 2023, global plug-in electric car sales were up ~25% YoY. The rise in EV sales in other regions of the world is also noteworthy. Until 2022, China, Europe, and the USA dominated EV sales. In 2023, EV sales are surging in many countries, notably Australia, India, Indonesia, Thailand, and many other countries. This surge is largely due to the availability of cheaper EVs, such as the BYD Dolphin and BYD Seagull, which are now being exported globally from China.
Lithium, a key material used in the production of cathodes for EV batteries, has seen a significant price rebound. Prices of lithium rebounded over 65% in the past month on a recovery in demand for EV batteries after having plunged to a 19-month low in the last week of April. Despite the surge, lithium prices are 36.5% lower year-on-year. The uptrend in lithium prices is attributed to the accelerating adoption of EVs, supply challenges, geopolitical risks, delays in lithium mining projects, and market deficit. The rise in prices comes despite Credit Suisse and Goldman Sachs projected downside risks to lithium price.
The Future of EVs: A Green Revolution
The future of the EV industry appears bright. The rise of cheaper small electric car sales is set to surge in 2023, with China becoming a major EV exporter. Furthermore, stationary energy storage is set to double in 2023, indicating that the energy storage trend can be even bigger than the EV trend.
Tesla's Stock Performance: A Reflection of Success
In addition to the impressive sales figures, Tesla's stock performance has also been noteworthy. Shares of Tesla Inc. rose to a 10th straight gain and their highest close since October, as data out of China showed that the electric-vehicle giant sold more cars in May than the previous month. Tesla stock closed up 4.6% to $234.86, for its highest closing price since Oct. 6, when it closed at $238.13, and its largest one-day percentage increase since May 26, when it rose 4.7%. It has charged up 28.4% over the past 10 days, its longest win streak since the 11-day run that ended Jan. 8, 2021. The impressive performance of Tesla's stock is a testament to the company's success in this burgeoning market.
Conclusion
The global EV market is undergoing a rapid transformation, with China leading the way. The rise of affordable EVs, advancements in battery technology, and the increasing demand for EV metals are all driving this green revolution. As the world continues to grapple with the challenges of climate change, the surge in EVs represents a beacon of hope for a more sustainable future.
---
Sources:
https://seekingalpha.com/article/4610354-latest-electric-vehicle-battery-and-ev-metal-miner-trends-may-2023-updated
https://www.marketwatch.com/story/tesla-stock-ticks-up-toward-a-10th-straight-gain-546cd4ae
https://energy.economictimes.indiatimes.com/news/power/1-in-every-7-cars-sold-now-an-ev-chinas-byd-dominate-again/100841437?redirect=1
https://www.reuters.com/business/autos-transportation/teslas-china-made-ev-sales-rose-24-may-april-cpca-2023-06-05/
https://www.thehindubusinessline.com/markets/commodities/lithium-prices-rebound-on-recovery-in-demand-for-ev-batteries/article66920727.ece