The Lithium Market Downturn
The lithium market has seen a significant downturn this year, with shares in lithium producers tumbling due to a slowdown in demand for electric vehicles (EVs) in China. However, this downturn is viewed as a temporary setback by industry experts, and it is believed to present an attractive investment opportunity.
Morningstar's Bullish Outlook on Lithium
According to a report by Morningstar, the lithium market is expected to remain undersupplied for at least the rest of this decade. The slowdown in demand is attributed to anticipated subsidy cuts in China and Europe, the global leaders in electric car sales. However, the introduction of a US subsidy is expected to partially offset this slowdown.
Despite the current market conditions, Morningstar remains bullish on lithium, citing rapidly rising electric car sales as a key driver of demand for lithium, a crucial component of EV batteries. The report predicts that lithium demand will increasingly come from EVs, growing to two-thirds of global demand by 2030, up from 45% in 2022. Global EV sales are forecasted to reach about 40 million cars by 2030, more than five times the number sold in 2022.
Lithium Prices and Market Predictions
However, the lithium market has seen a sharp fall in spot prices, with lithium spot prices in China plunging 70% between November and April. This has been attributed to the slowdown in demand combined with a rise in supply. Despite this, Morningstar forecasts lithium prices to average over $US36,000 per tonne from 2023 through 2030, leading to solid profits for low-cost producers.

Joe Lowry, a lithium industry expert, also shared his views on Twitter, stating that he sees average global lithium prices remaining between $45/kg and $60/kg through 2027. He emphasized that the dispersion of actual prices is much greater than what is typically represented in graphs, and he does not believe that a short market supports a global average of $25/kg.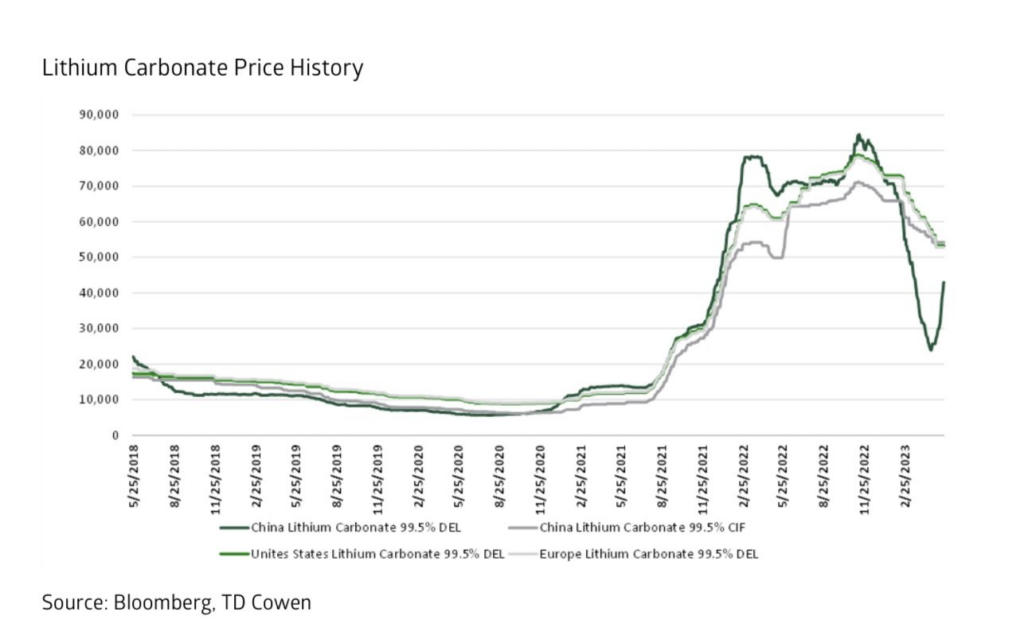 Automakers Securing Lithium Supplies
In the context of these market dynamics, automakers like Ford Motor are taking steps to secure their lithium supplies. Ford's ambition to build millions of electric vehicles this decade will require procuring and processing a host of materials that aren't common in gasoline-powered cars, with lithium being a key component.
Morningstar's Top Lithium Picks
Morningstar's top lithium picks are Albemarle (ALB), the world's biggest lithium producer, and Canadian miner Lithium Americas (LAC), both of which have 5-star ratings. They are the most undervalued stocks among the seven companies under Morningstar's coverage where lithium is or will be the majority of profits.

Conclusion
In conclusion, despite the current downturn in the lithium market, industry experts believe that the market will rebound and remain undersupplied for the rest of the decade. This presents a golden opportunity for investors to invest in lithium stocks at a lower price point, with the expectation of solid returns in the future.