Introduction: Groundbreaking Auto Pollution Limits
In a bid to combat climate change and drastically reduce greenhouse gas emissions, the Biden administration is planning to implement some of the most stringent auto pollution limits in the world. The proposed Environmental Protection Agency (E.P.A.) legislation aims to ensure that all-electric cars account for as much as 67% of new passenger vehicles sold in the United States by 2032, marking a significant increase from the mere 5.8% of vehicles sold last year. This ambitious proposal would not only exceed President Biden's earlier goal of having all-electric cars account for half of those sold in the country by 2030 but also make the United States a global leader in the fight against climate change.
Impact on EV Market and Infrastructure
This groundbreaking legislation will have far-reaching effects on the electric vehicle (EV) market and battery metals industry. The rapid adoption of electric vehicles would require a massive overhaul of infrastructure, including the construction of millions of new EV charging stations, an upgrade of electric grids to accommodate the power needs of those chargers, and securing supplies of minerals and other materials needed for batteries.
Investment Challenges in Mining and Refining
Critical minerals such as lithium, nickel, and graphite are essential for the energy transition, and massive investments in mining and refining are needed to meet the growing demand. Tesla's Master Plan estimates a total investment of $3.4 trillion for mining, refining, chemicals, battery production, and gigafactories, with lithium and graphite requiring the most significant capital expenditures (capex). However, raising funds for mines remains more challenging than funding gigafactories, despite both being crucial for the transition.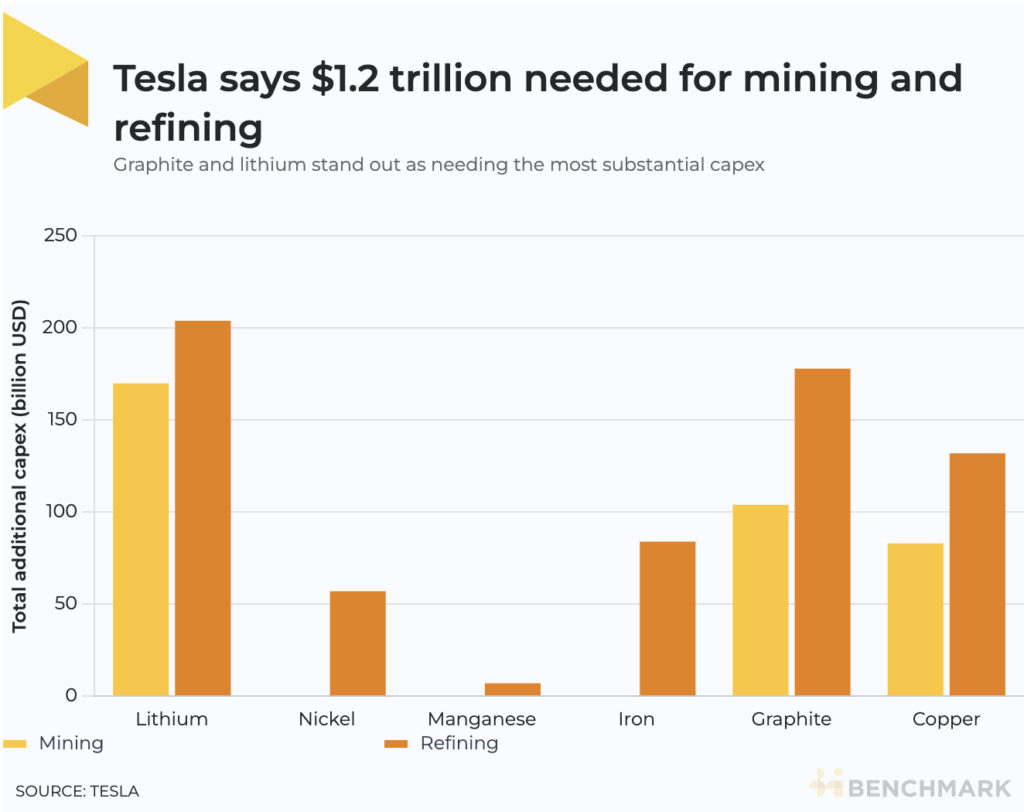 Balancing the Supply Chain: Addressing the Gigafactory and Mining Investment Discrepancy
The process of building a mine takes approximately ten years, compared to just two years for a gigafactory. This discrepancy highlights the need for a more synchronized upstream and downstream supply chain in the face of rapidly increasing demand for electric vehicles.
Conclusion The Path to a Cleaner, Sustainable Future
In conclusion, while the Biden administration's E.P.A. proposal is set to significantly boost EV sales and ignite a battery metals bonanza, it is crucial to address the challenges and imbalances in the supply chain. By addressing these challenges and fostering a more balanced investment landscape, the United States can lead the global transition to a cleaner, more sustainable future.