Manganese X: Perfectly Positioned to Ride the EV Battery Revolution
The battery market is on fire – with even more explosive growth on the horizon. 
As the transition to sustainable and carbon-free energy continues unabated, driven by ambitious zero-emission goals, battery demand is predicted to grow exponentially. Forecasts show it reaching 8.8 TwH in 2030, an increase of over 15x times from 2021 levels.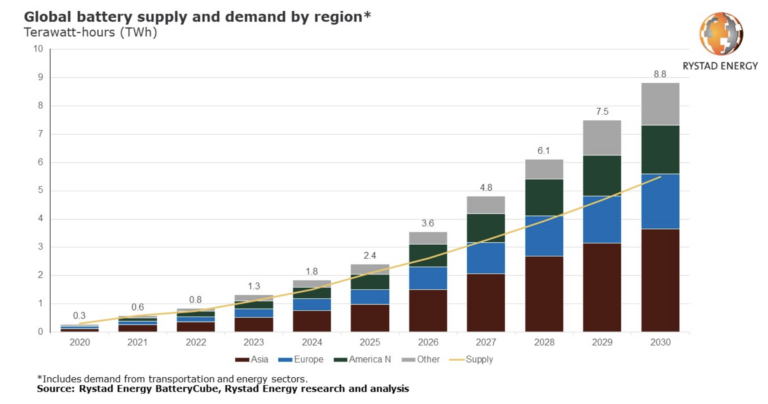 Electric vehicles (EV) will account for 55% of the market by 2030, propelling forward the demand for Lithium-Ion (Li-ion) batteries – the leading type of EV battery. In turn, this powerful trend has led to massive demand growth for the main components of Li-ion batteries, namely cobalt, lithium – and Manganese.
Cobalt and lithium have garnered strong investor interest, with skyrocketing 119% and 400% in 2021, respectively, and even stronger performances by lithium mining juniors. Manganese, despite a 100% price surge, has however been overlooked by investors – at least for now.
Manganese is industrially, economically, and strategically vital to the future of the EV industry:
1) In two of the three most common types of Li-ion batteries, Nickel Manganese Cobalt (NMC) and Lithium Manganese Oxide (LMO), Manganese constitutes between 20% to 61% of the cathode's composition.
2) China produces over 90% of the world's high purity electrolytic Manganese metal (HPEMM) and high purity Manganese sulphate monohydrate (HPMSM) – the only ones that can be used in Li-ion battery production.
3) High purity Manganese demand is expected to surge by over 900% between 2020 and 2030, with the market facing severe and growing shortages.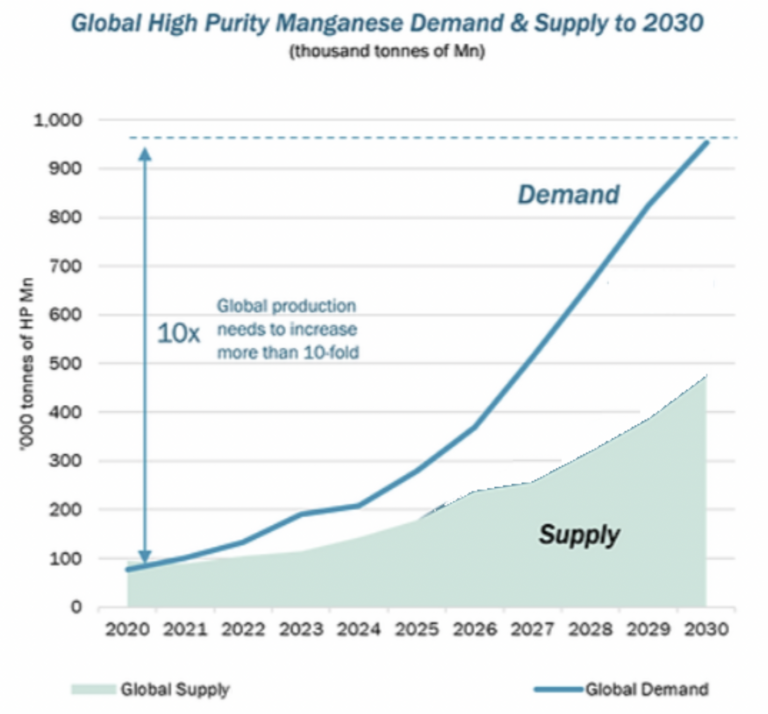 A dynamic Canadian junior miner is leveraging a world-class size deposit, promising metallurgical results, and an experienced team to become North America's first and only producer of high purity, EV-compliant Manganese – Manganese X.
Manganese X: Unleashing North America's Potential N.1 Manganese Producer.
Manganese X (TSXV: MN) is a listed pure Manganese play stock with significant mineral properties in Canada's New Brunswick province. The company's flagship asset is Battery Hill (100% owned), which is unique due to its size, location, and mining potential.
1) The project encompasses 55 claims covering 1,228 hectares approximately 5 km NW of the town of Woodstock in Carlton County, south western New Brunswick. It comprises five Manganese-iron zones including Iron Ore Hill, Moody Hill, Sharpe Farm, Maple Hill and Wakefield. 
2) It is located only 12 km from the U.S. (Maine) border. Existing infrastructure includes power lines and road access (Route 95, 5 km S of the property), providing good connections to major shipping routes on the Atlantic Ocean and the St. Lawrence River. The closest rail station is located in Houlton, Maine, 15 km SW of the property. 
3) In his Master's Thesis on Manganese occurrences, Brian Way (2012) reports that the Woodstock area "hosts a series of banded iron formations that collectively constitute one of the largest Manganese resources in North America, approximately 194 million tonnes". Manganese was being mined in the area as early as 1848.
4) The August 2021 Mineral Resource Estimate (MRE) indicates a total of 34.86 million tonnes of Measured and Indicated mineral resources grading 6.42% Mn (2.24 million tonnes of Mn), plus an additional 25.91 million tonnes of Inferred mineral resources grading 6.66% Mn (1.71 million tonnes of Mn), using a 2.5% Mn cut-off grade that reflects operating costs having reasonable prospects for economic extraction. Sensitivity analysis of the Battery Hill deposit to cut-off grade indicates 12.25 million tonnes of Measured and Indicated mineral resources at 8.77% Mn (1.07 million tonnes of Mn) and 10.61 million tonnes of Inferred mineral resources grading 9.05% Mn (0.96 million tonnes of Mn), using a cut-off grade of 7% Mn.
5) Phase 1 metallurgical studies (September 2020) using leaching, purification and crystallization processes produced Manganese sulphate  (MnSO₄) with an EV-battery grade purity of up to 99.95% and free of selenium, which is toxic to battery functionality and the environment. Phase 2 study results (January 2021) showed improved purification results, cost reductions, and low levels of contaminants. 
6) Battery Hill could have up to a 25-year mine life.
The Battery Hill project's geological characteristics and size, in addition to promising metallurgical results, are a clear positive for the Manganese X. Nevertheless, investors are still to fully grasp the two total game-changers that could positive impact the company – namely, the increasing use of Manganese in EV batteries and rising geopolitical risks to the global battery supply chain.
Manganese: Ready To Take Over From Cobalt?
The EV battery industry is undergoing a paradigm shift that so far  has remained under the radar of most investors. The market share for Manganese-bearing NCM cathodes is expected to increase from 45% in 2020 to 75% by 2030. This is the consequence of the increasing presence of Manganese and its outright replacement of cobalt in EV battery cathodes. News releases by government entities, academia, and major multinationals highlight a trend that is already in full swing:
1) Samsung and Panasonic have announced their intention to gradually abandon the use of cobalt in Li-ion battery manufacturing.
2) By 2030, Roskill forecasts that 240 world battery mega-factories will be using manganese as their primary material.
3) The new Tesla 4680 battery, which is expected to go into production in 2022,  has a 33% Manganese cathode.
4) In June 2021, the U.S. Department of Energy released a blueprint to eliminate cobalt from domestic Li-on battery production by 2030.
5) A University of Texas study on a cobalt-free Nickel-Manganese-Aluminium (NMA) cathode demonstrated capacity performance  comparable to NCA and NMC cathodes, but with superior thermal stability.
This epochal shift is occurring due to the inherent advantages of Manganese:
Higher Affordability – A typical lithium-ion battery contains nearly 14 kg of cobalt. With a trading value of $2,500 per tonne, versus cobalt's $70,000+ per tonne, Manganese is a significantly affordable alternative as a cobalt replacement. Greater Manganese use would result in increased profit margins along the production chain and reduced end-user costs, as cobalt represents 25% of total EV battery cost.
Better Supply Options – The DR Congo supplies approximately 70% of the world's cobalt. Of this supply, up to 30% is derived from artisanal mines, which are known for abysmal working conditions, environmentally destructive mining methods, and the extensive use of illegal child labour. The consumption of cobalt poses serious challenges in terms of ethics, sustainability, and environmental impact. Manganese, thanks to its simple metallurgy and presence in developed jurisdictions such as Canada, allows it to be mined in safe, affordable, and environmentally friendly way.
Improved Performance – Manganese decreases the combustibility of EV batteries, which is problematic with cobalt infused lithium-ion batteries. In the case of Tesla, an increased Manganese component (from 10% to 33%) would boost the capacity of the company's EV batteries by 400% and their power by 500%. Furthermore, although existing Lithium Iron Phosphate (LFP) batteries are viable and cobalt-free, they suffer from low energy density and limited driving range.
Manganese is increasingly becoming the go-to metal for EV battery manufacturing. With this trend in place, securing safe and reliable sources of Manganese ore and high purity Manganese is becoming the number one priority of battery and automotive manufacturers worldwide. While China dominates high purity Manganese production, Manganese ore is sourced from a handful of potentially unstable countries. Manganese X's Battery Hill project has therefore the potential of becoming a highly valuable strategic resource of Manganese for the North American market – with potentially enormous effects on its stock price.
Manganese X: Leveraging Unrivalled Geographic & Know-How Advantages
Manganese ore production is dominated by South Africa, with over a third of the total, followed closely by Australia and China.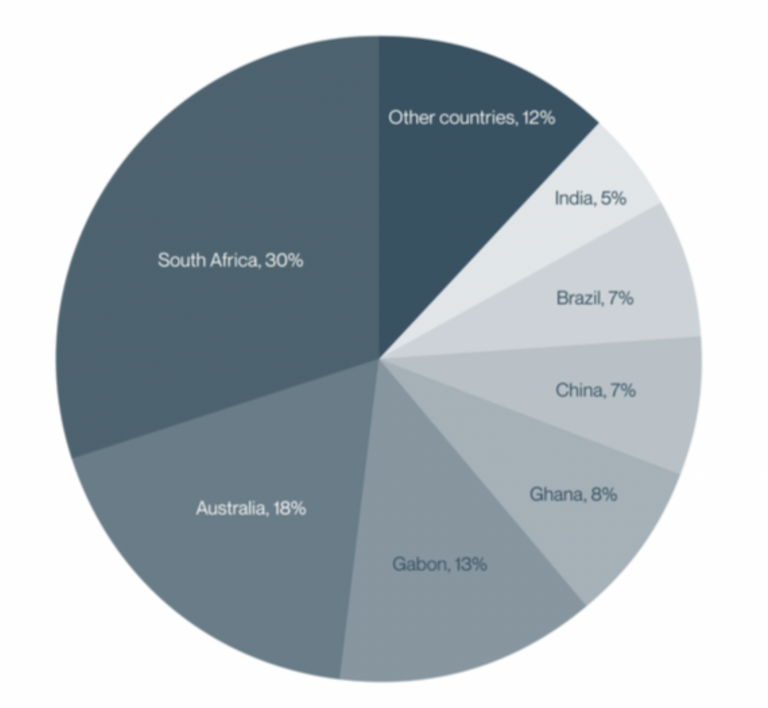 The USA currently has zero Manganese production and is forced to import 100% of its Manganese requirements. Furthermore, 90% of the global capacity for production of high-purity Manganese sulphate for EV batteries is located in China, which also leads in terms of Li-ion battery production capacity with a 79% share.

This means that the entire US EV battery industry could suffer from tremendous supply disruptions in the case of rising geopolitical tensions with China. 
Manganese X could completely eliminate this danger as a unique large-scale and strategic Manganese asset, with the potential to service a North American EV battery capacity that is forecasted to multiply by 6.2x by 2030.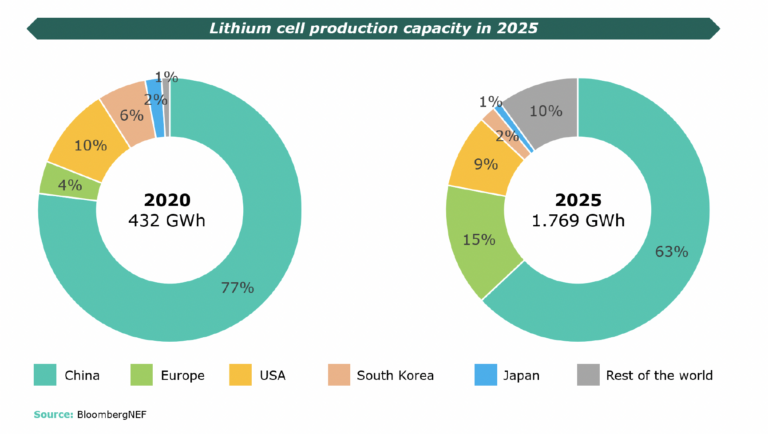 The eastern US and Canada regions, closest to the Battery Hill project, are expecting the construction of especially significant EV battery facilities in the next 5 years.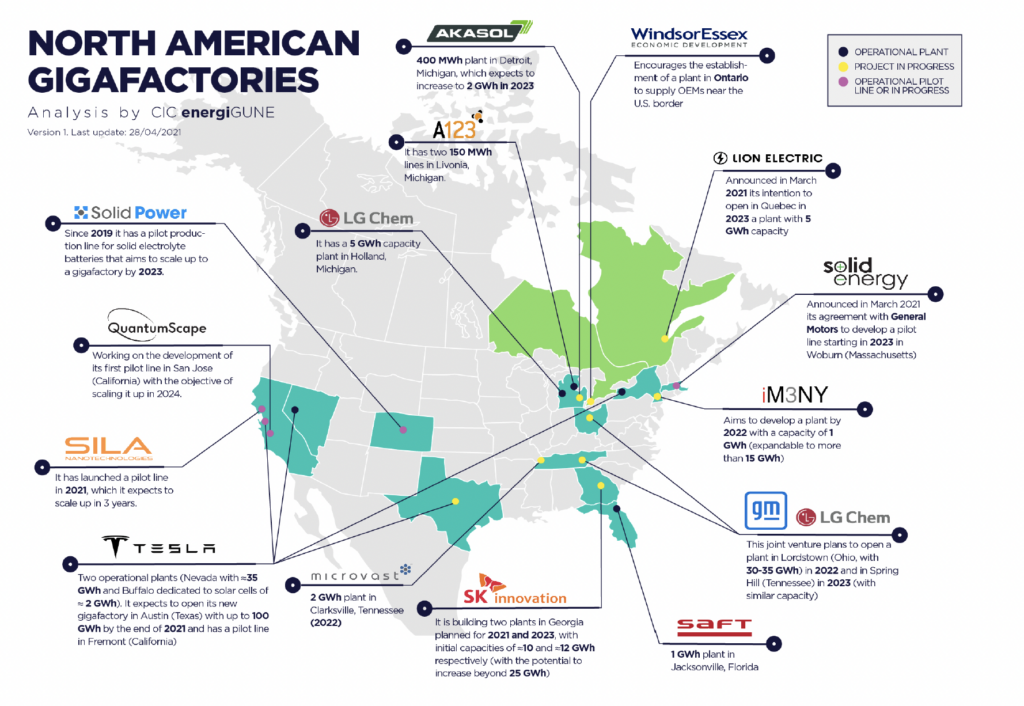 Manganese X is fully aware of the impact, value, and market implications of the Battery Hill project. The unique profile and experience of the Manganese X team in business development, geology, and mining, significantly derisk the project, as it moves into the development and production stages:
Martin Kepman, CEO and Director
Founded Manganese X in 2016 after 34 years of experience in business development and management consulting at Martin Kepman & Associates Inc.
Dr. Luisa Moreno, Director
A Ph.D. in Materials Science with 12+ years of experience in economic research, mineral processing, and metallurgy.
Perry McKinnon, VP Exploration
An accredited professional geologist with 30+ years of experience working on mineral projects in Alaska, Manitoba, Quebec, Atlantic Canada, and Mexico.
Recent events are already thrusting the stock into the market's spotlight.
On March 29th, Manganese X announced the achievement of two major milestones in the development of the Battery Hill project:
1) The final high purity Manganese sulphate monohydrate (HPMSM) crystallization process – eliminating one of two major purification obstacles to economic viability.
2) The production of final crystal products with calcium and magnesium contaminants below 100 ppm – a crucial threshold level for battery grade HPMSM.
The company is now about to release a potentially groundbreaking announcement, that will likely determine Manganese X's stock performance for the rest of 2022: the Battery Hill project's Preliminary Economic Assessment.
A Powerful Catalyst: Manganese X Soon To Release PEA
After a series of positive assessments of resource size, Mn recovery rates, Manganese is in the process of complete its upcoming Preliminary Economic Assessment (PEA). The PEA will assess the economic viability of the Battery Hill project as a producer of high-purity EV-compliant Manganese.
A positive assessment is likely to provide a strong upside catalyst to the share price. The rising optimism of investors has already pushed it within easy reach of its 52-week highs.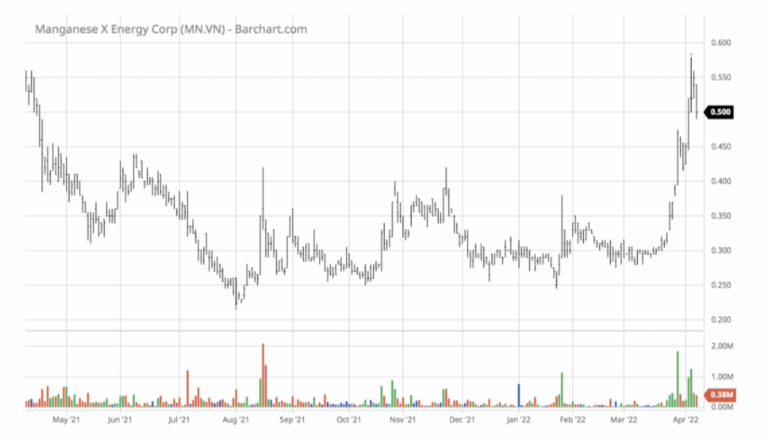 With potentially one of the largest undeveloped strategic Manganese resources in North America, positive metallurgical recovery tests, and booming demand for EV batteries, Manganese X could provide excellent exposure to one of the world's fastest-growing and most promising sectors.
No Investment Advise The Information Provided In This Article Does Not Constitute Investment Advice, Financial Advice, Trading Advice, Or Any Other Sort Of Advice And You Should Not Treat Any Of The Website's Content As Such. Batteryjuniors Does Not Recommend That Any Financial Instrument Should Be Bought, Sold, Or Held By You. Do Conduct Your Own Due Diligence And Consult Your Financial Advisor Before Making Any Investment Decisions. At The Time This Article Was Originally Posted, Manganese X Was An Advertiser On Batteryjuniors.com. Accuracy Of Information Batteryjuniors Will Strive To Ensure Accuracy Of Information Listed In Our Content Although It Will Not Hold Any Responsibility For Any Missing Or Wrong Information. Batteryjuniors Provides All Information As Is. You Understand That You Are Using Any And All Information Available In This Article At Your Own Risk. Non-endorsement The Appearance Of Third-party Advertisements And Hyperlinks On Content Presented By Batteryjuniors Does Not Constitute An Endorsement, Guarantee, Warranty, Or Recommendation By Batteryjuniors. Do Conduct Your Own Due Diligence In Regard To The Information Provided.