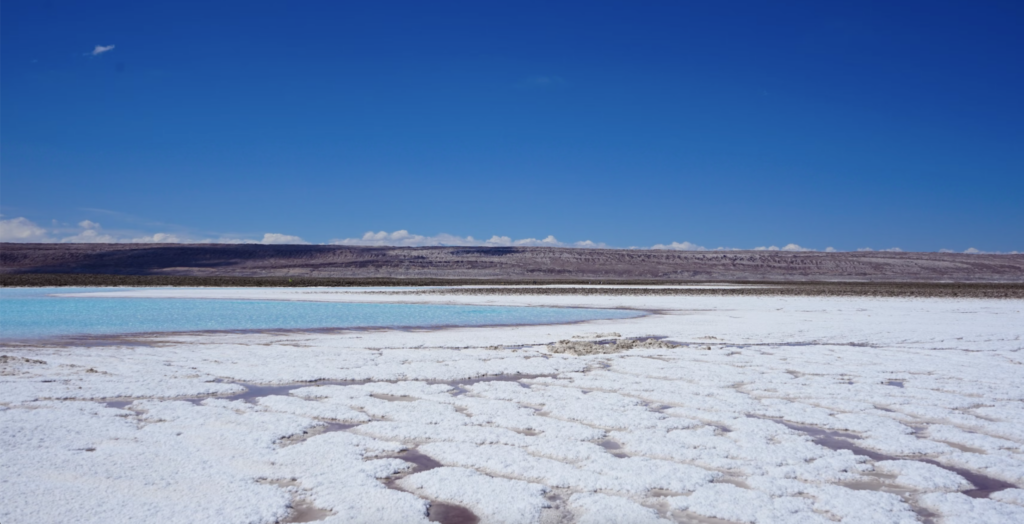 Photo: Josefina Di Battista
Lithium Demand Soars But Investors Should Look Beyond Albemarle
L

ithium prices have more than tripled over the past year amid soaring demand from electric vehicles. With limited investment in new projects, the supply of lithium is failing to keep up with the rising demand. And many investors are betting that scarcity will drive prices even higher moving into 2022 and beyond as the EV market heats up.
S&P Global Market Intelligence expects global demand for lithium carbonate to rise nearly 28% in 2022. In addition to a lack of investment in supply, only a handful of companies can convert it into battery-grade chemicals—an expensive and time-consuming process. Some companies are also buying lithium mines, further depressing future market supply.
The most popular lithium stock is Albemarle Corporation (ALB), one of the world's largest lithium producers. While the lithium market remains attractive, the stock rose more than 60% over the course of 2021 prompting Goldman Sachs analyst Robert Koort to downgrade the stock to Sell, citing its lofty valuation.
Investing in Smaller Players
Global supply of lithium is barely keeping pace with ever-increasing demand, driven by the growth of electric vehicles, rechargeable batteries, and alternative energy sources. Throughout the next decade, however, supply is not expected to keep up. The shortage could reach anywhere from 253 to 1,545 kilotonnes of lithium carbonate equivalent by 2030, according to the International Energy Agency. These figures would represent a shortage of anywhere from 18% to 58% of the anticipated global demand for lithium, taking into account production from mines expected to come online within the next eight years.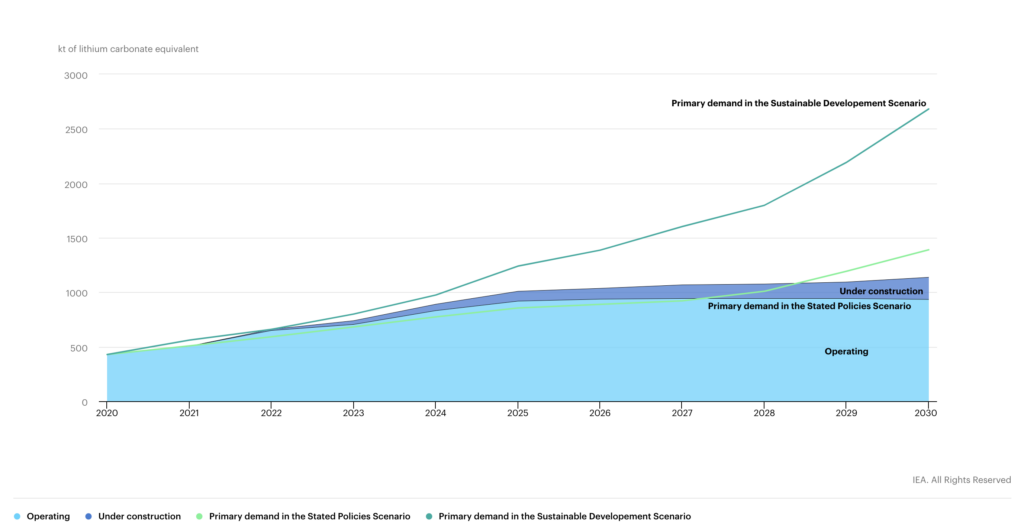 Committed mine production and primary demand for lithium, 2020-2030, IEA, Paris
Large lithium companies may become overvalued as investors flock into the space, but smaller players may offer more attractive valuations. With the looming and massive shortage of lithium in mind, investors may be wise to identify prospective projects several years ahead of potential production.
Edison Lithium Corp. (TSX-V: EDDY) (OTCQB: EDDYF) (FSE: VVO) is a Canada-based junior mining exploration company focused on the procurement, exploration, and development of cobalt, lithium, and other energy metal properties. In particular, the company focuses on affordable, cost-effective, and highly-regarded mineral leases.
The company recently acquired Resource Ventures S.A., an Argentinian corporation that owns or controls the rights to over 148,000 hectares (365,708 acres) of prospective lithium brine claims in Argentina. These claims are located on South America's famous Lithium Triangle that contains high lithium, potassium, and boron levels.
The claims are located in two regions. The first and most proven region is the Salar de Antofalla, in the highlands near the border of Argentina and Chile. Several companies have claims in the area. Argentina Lithium & Energy Corp. has claims or options on about 14,000 hectares of prospective lithium properties there, about 20 kilometers west of the company's existing Salar de Hombre Muerto mine which is the largest lithium producing operation in the country.
In 2016 Albemarle acquired claims in the Antofalla region from Bolland Minera S.A. Bolland's drill program had identified a substantial resource of both lithium and potassium (potash) to over 500 meters depth, suggesting that Antofalla is one of the deepest basins in the region. At the time, Albemarle believed its resource would prove to be Argentina's largest lithium resource. The company has not announced further development of the property as it tends to more advanced operations in other regions.
Edison Lithium's claims in the Antofalla basically surround Albemarle's, and previous transient electromagnetic (TEM) geophysical studies of some of Edison's claims indicate potential brine resources down to a similar depth of 500 meters. To date, there has not been a NI 43-101 technical report conducted on the claims to prove the resource. Edison's Antofalla claims total about 107,000 hectares, or about 264,000 acres.
Edison's other Argentinian claims lie at a much lower elevation on the Salar de Pipanaco, about 50 km west of Catamarca, a city of about 160,000 people in the northwestern part of the country. These claims total about 41,000 hectares, or about 101,000 acres. The area's lithium resource has not been defined or explored to the extent of the Antofalla region. Based on federal drilling results a few years back (the government was looking for new sources of fresh water), Edison believes the area could be appropriate for a lithium or potash mine, or even a regional lithium processing center.
Looking Ahead
Edison Lithium CEO Nathan Rotstein stated, "Our initial emphasis will focus on developing our properties at Antofalla, as it is a globally renowned lithium basin. Our claims in the Pipanaco salar, while only early stage exploration, may prove to be strategic for a potential regional lithium processing facility located less than 50 km from Catamarca city. We believe this strongly positions the Company as a lithium player in South America's famed lithium triangle, during an energy metals commodities bull cycle. Our growth will be accelerated by acquisitions within the lithium space."
Mr. Rothstein has over 45 years of experience in the financial markets dealing with companies in the energy metals sector. Meanwhile, COO Dr. Luisa Moreno, Ph.D. has over 12 years of experience in technical and economic research with a focus on strategic minerals and related processes. Combined, they're well-positioned to advance these claims.
Keep an eye out for further developments from Edison Lithium as it looks to define its resource in one of the richest lithium regions in the world, laying the groundwork for potential future production to help meet looming and significant global supply shortages.