Lithium Demand, Prices Skyrocketing: New Sources Needed
Disrupting the Automotive Industry
Demand for lithium is increasing rapidly due to the proliferation of electric batteries dependent on the mineral. McKinsey forecasts the battery cell market will grow at a minimum of 20% per year through 2030, which would put the global value at $360 billion. Depending on market conditions and the possible positive impacts of economies of scale, the firm believes the global electric battery market could plausibly reach $410 billion by that time.
Along with rising demand and in conjunction with a relatively capped supply, lithium prices have of course skyrocketed. According to Benchmark Mineral Intelligence, the price of raw lithium rose 344.9% between January 2021 and January 2022.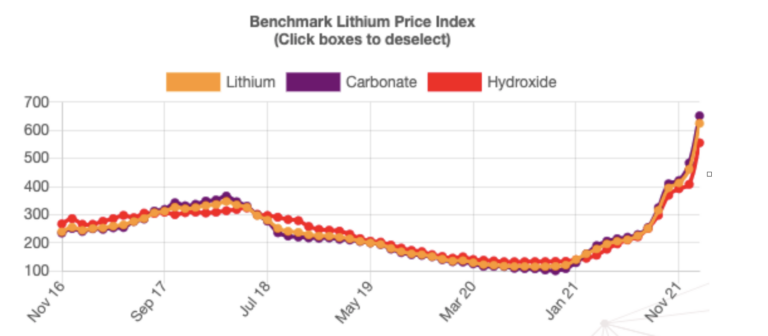 Source: Benchmark Mineral Intelligence
Companies around the world are scrambling to secure existing supply and create new sources for lithium. Australia, Chile, and China are currently the largest producers of lithium, with Australia greatly expanding production over the last four years or so. Argentina currently rates fourth in lithium production, increasing output by 60% in 2016 alone. The country, known for its favorable regulatory environment, may be poised for an even bigger leap over the next several years as claims increase to meet demand while neighboring Chile simultaneously debates its approach to mining.
One prospective lithium miner positioned to help drive increased production in Argentina is Edison Lithium Corp. (TSX-V: EDDY) (OTCQB: EDDYF) (FSE: VVO). Edison holds a total of over 148,000 hectares (~366,000 acres) of lithium claims in two prime areas of the country.
Lithium in Chile and Argentina
Chile produces about 25% of the world's lithium supply and sits on almost half of the world's proven reserves. The country has historically been committed to mining at almost any cost, but a recent election of a new government there, combined with issues raised by indigenous populations regarding mining practices on or near their lands, has created an air of uncertainty in the country. In fact, the country is in the midst of rewriting its constitution and some of the central issues surround the influence of the country's powerful mining industry. Though mining in resource-rich Chile will undoubtedly remain, the regulatory landscape around the industry is in question.
Argentina's lithium zones lie just on the other side of the border with Chile, and its reserves haven't been proven or its resources exploited nearly to the extent of its neighbors to the west. But the potential is clearly there. 
One of Edison Lithium's areas of focus is the Salar de Antofalla, in the highlands near the border of Argentina and Chile. Edison acquired claims here as part of their purchase of Resource Ventures S.A. Several other companies have claims in the area as well.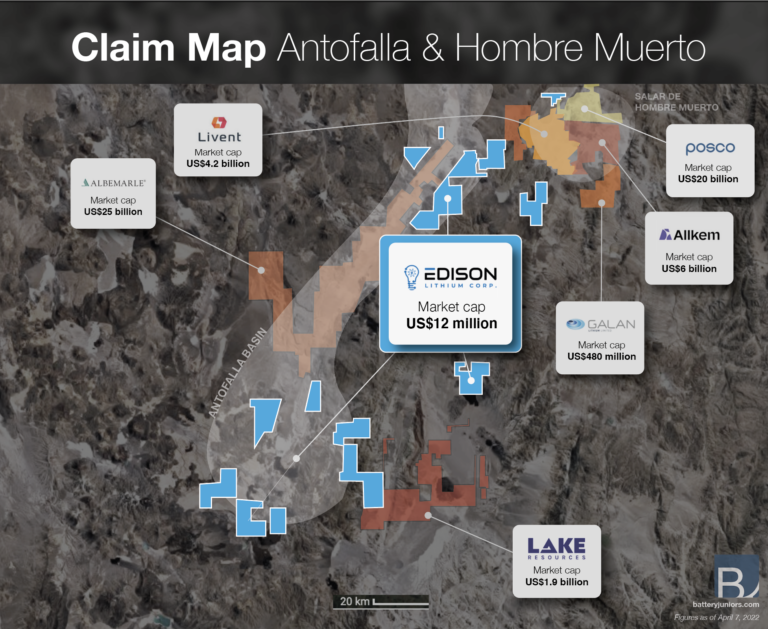 In 2016 Albemarle, the world's second largest lithium producing company, acquired claims in the Antofalla region from Bolland Minera S.A. Bolland's drill program had identified a substantial resource of both lithium and potassium (potash) to over 500 meters depth, suggesting that Antofalla is one of the deepest basins in the region. At the time, Albemarle believed its resource would prove to be Argentina's largest lithium resource. The company has not announced further development of the property as it tends to more advanced operations in other regions.
Edison Lithium's claims in the Antofalla basically surround Albemarle's, and previous transient electromagnetic (TEM) geophysical studies of some of Edison's claims indicate potential brine resources down to a similar depth of 500 meters. To date, there has not been a NI 43-101 technical report conducted on the claims to prove the resource. Edison's Antofalla claims total about 107,000 hectares, or about 264,000 acres.
The company has completed an Environmental Impact Assessment for the prospecting phase of exploration of its Antofalla claims. The submission is basically a plan of work for the next phase of development as Edison moves toward confirming the lithium resources on its claims.
New Sources Needed
According to Fastmarkets, new projects coming online will be able to meet demand through 2025, but the next five years there could be a deficit as demand continues to skyrocket while new production levels struggle to keep up. The research firm points to Australia and the Lithium Triangle (Argentina, Chile, and Bolivia) as the most likely areas for new production. That's where a company like Edison Lithium comes into the picture.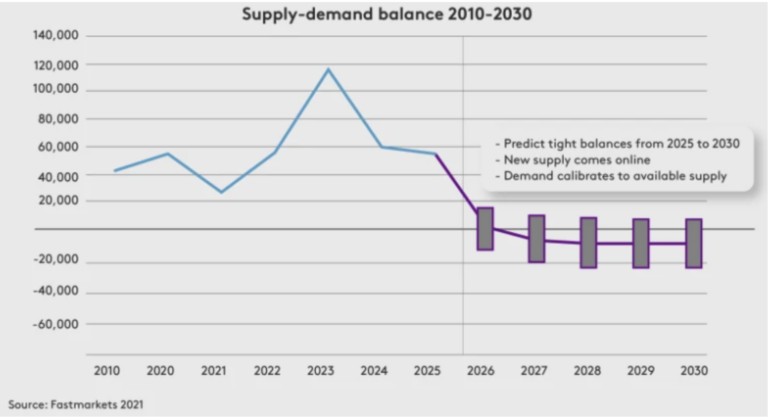 Such forecasts always lead to deals and consolidation as investors look to capitalize. In 2021, large mining companies closed over $9 billion worth of M&A deals for Latin American assets, and almost half of those targeted lithium. Three of the top six deals on the linked list were for Argentinian lithium assets. 
Edison Lithium (TSX-V: EDDY) (OTCQB: EDDYF) (FSE: VVO) is positioned at the nexus of several enticing trends. Lithium demand is through the roof with no signs of slowing down. Companies are racing to bring new production online to take advantage of the favorable market conditions. The Lithium Triangle is one of the world's prime locations for lithium production. Edison's claims need to be proven but have shown great potential for deep reserves, surrounding claims held by the second largest lithium supplier in the world that are thought to represent Argentina's largest lithium resource.
Keep an eye out on the lithium market in general, and Edison Lithium Corp. in particular. Its ~$13 million market capitalization belies the tremendous potential of its holdings.
NO INVESTMENT ADVISE THE INFORMATION PROVIDED IN THIS ARTICLE DOES NOT CONSTITUTE INVESTMENT ADVICE, FINANCIAL ADVICE, TRADING ADVICE, OR ANY OTHER SORT OF ADVICE AND YOU SHOULD NOT TREAT ANY OF THE WEBSITE'S CONTENT AS SUCH. BATTERYJUNIORS DOES NOT RECOMMEND THAT ANY FINANCIAL INSTRUMENT SHOULD BE BOUGHT, SOLD, OR HELD BY YOU. DO CONDUCT YOUR OWN DUE DILIGENCE AND CONSULT YOUR FINANCIAL ADVISOR BEFORE MAKING ANY INVESTMENT DECISIONS. At the time this article was originally posted, Edison Lithium Corp was an advertiser on Batteryjuniors.com. ACCURACY OF INFORMATION BATTERYJUNIORS WILL STRIVE TO ENSURE ACCURACY OF INFORMATION LISTED IN OUR CONTENT ALTHOUGH IT WILL NOT HOLD ANY RESPONSIBILITY FOR ANY MISSING OR WRONG INFORMATION. BATTERYJUNIORS PROVIDES ALL INFORMATION AS IS. YOU UNDERSTAND THAT YOU ARE USING ANY AND ALL INFORMATION AVAILABLE IN THIS ARTICLE AT YOUR OWN RISK. NON-ENDORSEMENT THE APPEARANCE OF THIRD-PARTY ADVERTISEMENTS AND HYPERLINKS ON CONTENT PRESENTED BY BATTERYJUNIORS DOES NOT CONSTITUTE AN ENDORSEMENT, GUARANTEE, WARRANTY, OR RECOMMENDATION BY BATTERYJUNIORS. DO CONDUCT YOUR OWN DUE DILIGENCE IN REGARD TO THE INFORMATION PROVIDED.