Edison Lithium: A Potential Strategic Lithium Deposit With Strong M&A Potential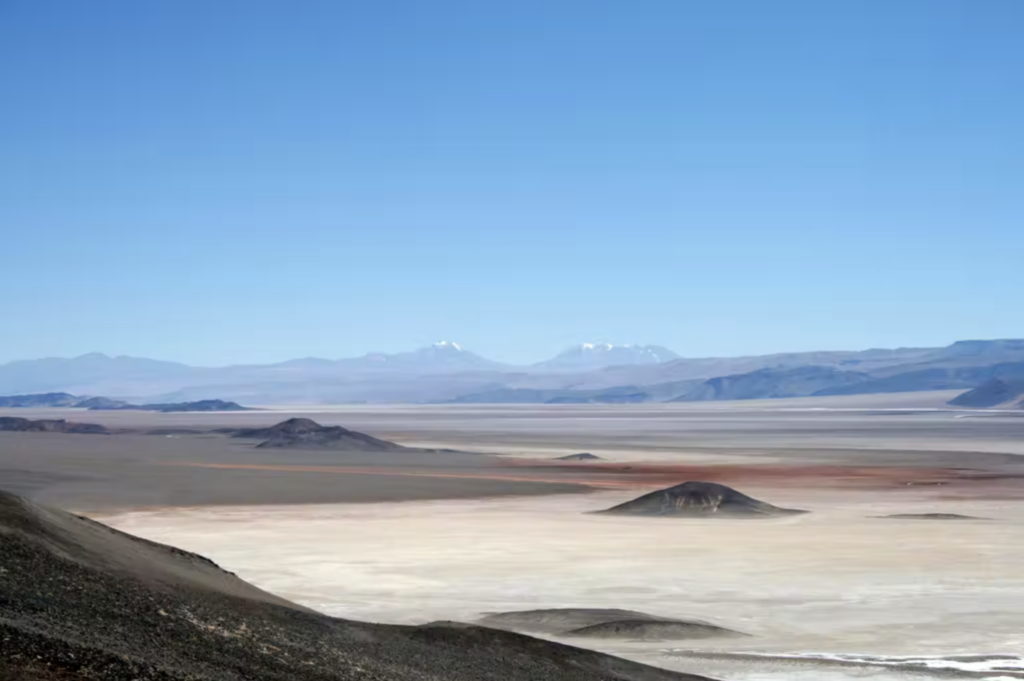 Lithium prices continuous to remain at close to their all-time high, after a record-breaking 400% run up in 2021:
Two main factors are fuelling this powerful trend:
Record Electric Vehicle (EV) Sales – Sales of EVs, the main source of Lithium-Ion (Li-ion) battery demand, are blowing away the most optimistic forecasts in 2022, despite an overall weak automotive sales market. Global passenger EV sales skyrocketed 60% year-on-year in March 2022, compared to a -18% fall in non-EV purchases. EV sales in Australia and Ireland have already surpassed the total for 2021, while in the UK an increase of more than 100% is expected this year. In addition to a boom in the number of new models available, demand is fuelled by high gasoline and diesel prices, which is making EVs 3x to 6x times cheaper to drive than internal combustion engines.
Lithium Supply Disruptions – With rising global shortages in shipping, mining equipment, and personnel, the lithium mining supply chain is already being affected. Forecasts are showing a potential 9-12% lithium carbonate supply shortfall in 2022, with users having to draw on inventories to compensate. Mining giant BHP recently announced many supply chain disruptions may last well into 2025. 
In addition to positive tailwinds in the short-term, the long-term fundamentals of the lithium market also remain extremely strong. EV sales are expected to triple between 2021 and 2026, reaching over 20 million units sold and an automotive market share of above 20%: 
EV manufacturers (...) will "need to become miners" to be able to bring new raw material mining capacity to the market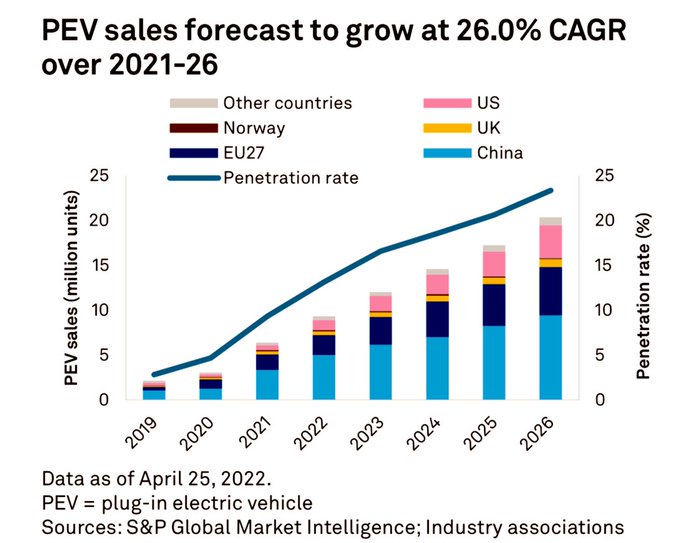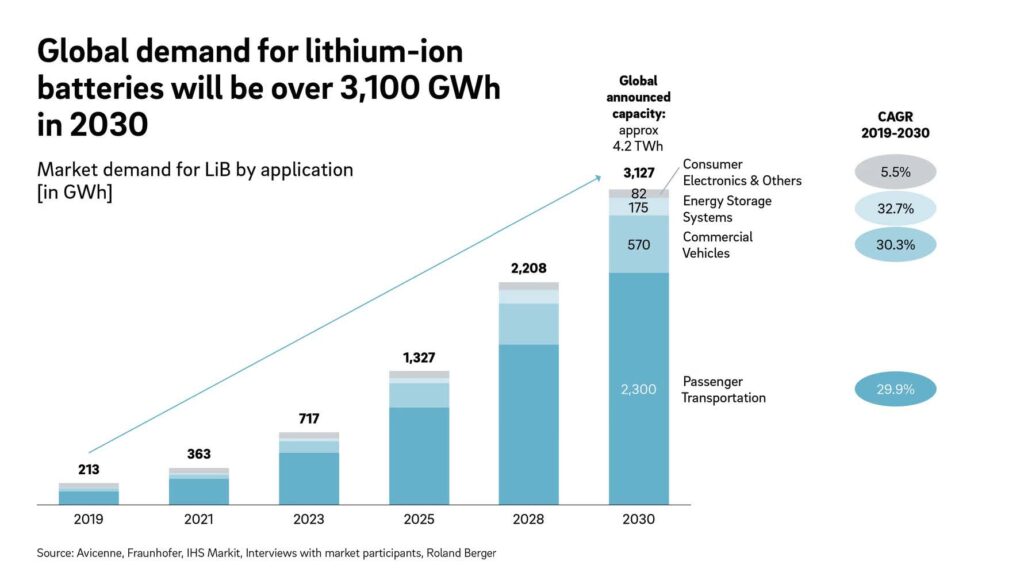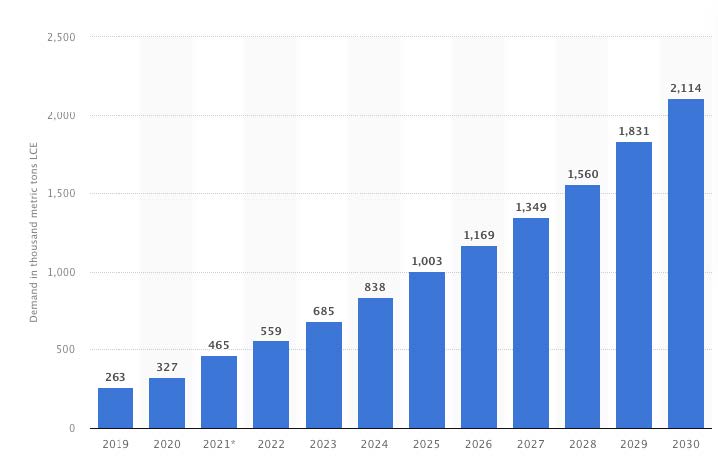 At the same time, lithium mine supply will struggle to keep pace, leading to a structural shortage that will expand rapidly by 2025: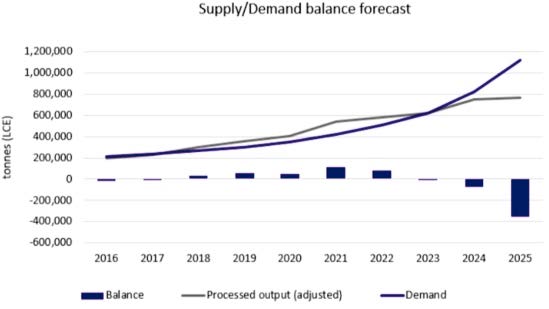 In the middle of this market, investors are scrambling to find lithium mining companies with viable lithium resources which can either be developed in rapid times, or become the target of the ongoing lithium M&A wave. 
Among the more interesting prospects is Edison Lithium (CVE: EDDY), an ambitious mining junior which owns 148,000 hectares (365,708 acres) of prospective lithium brine claims in the province of Catamarca, Argentina. The company has recently announced the spin out of its cobalt assets, comprised of the 4,440 hectare Kittson Property (Ontario, Canada), in order to focus on the development of its lithium project. At the present moment, EDDY is moving rapidly forward with the exploration of the property – one of the largest in the world's most lithium-rich area. 
Antofalla Salar: A High-Potential Property in South America's famed "Lithium Triangle"
The company's lithium projects are strategically located in a region of the Andes rich in lithium reserves around the borders of Argentina, Bolivia, and Chile. The famed "Lithium Triangle" is estimated to hold up to 70% of the world's lithium reserves, in the form of salt-lake brines.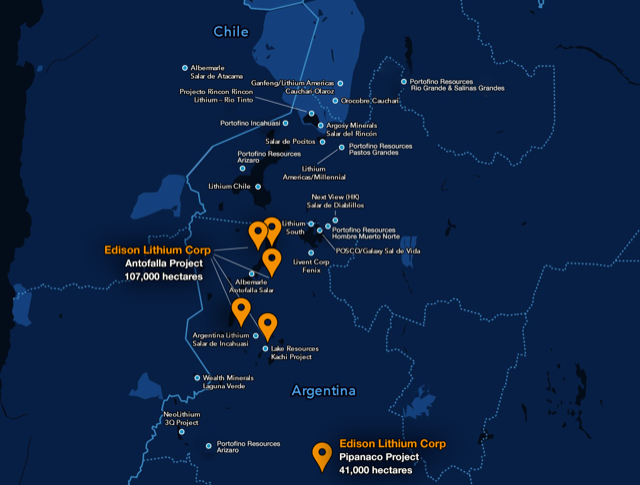 The claims are principally located in the two geological basins known as the Antofalla Salar and the Pipanaco Salar, which possess standout geological characteristics, nearby infrastructure, and development potential: 
Antofalla Salar 
The 107,000 hectare Antofalla tenement is located in the northern Catamarca province, less than 20 km west of Livent's lithium operation. Livent is currently Argentina's largest lithium producer. 
The Antofalla Salar hosts one of the largest lithium-bearing basins in the region. It is over 130 km long and varies between 5 km and 20 km across. In September 2016, Albemarle Corporation, the world's largest producer of lithium, announced that it had acquired from Bolland Minera, S.A. exclusive exploration and acquisition rights to a claim block located in the center section of the Antofalla Salar. At that time, Albemarle publicly stated its belief that Antofalla has the third largest lithium brine reservoir in the world. 
Bolland had previously drilled 56 boreholes over 265 km² and defined a resource of 2.22mt of lithium (11.8mt LCE) grading 350mg/l. The test drilling program indicated substantial values for lithium and potassium continuously observed from the surface down to a depth of over 500 metres, suggesting that Antofalla is one of the deepest basins in the region. The findings were later confirmed by 2018 geophysical studies, indicating the presence of lithium-rich brines down to a depth of 500 metres. 
Pipanaco Salar 
EDDY's secondary property consists of over 41,000 hectares (101,311 acres) of core areas in this salar, which is located approximately 50 km west of Catamarca city. The property is in the very early stages of exploration, with minimal surface samples having been collected to date.
The location advantage of EDDY's properties cannot be overstated. Argentina currently ranks second and fourth worldwide, respectively, in lithium reserves and in lithium output. Investments in lithium mining reached $3.4 billion in 2020-2021. The province of Catamarca was ranked the number one jurisdiction in Argentina for mining investment based on the Fraser Institute's 2021 Investment Attractiveness Index, and currently hosts one of the country's only two lithium projects in the production phase. 
The country is undergoing an unprecedented lithium exploration and development spending boom, with major players involved: 
– In Q1 2022 French miner Eramet, in JV with China's Tsingshan Holding Group, began construction works to build a $400 million lithium plant with an annual production capacity of 24,000 metro tons of lithium carbonate starting in 2024. 
– In March 2022 South Korean steelmaker company Posco Holdings announced a $4 billion investment plan for the Hombre Muerto lithium project located in Salta Province. The project, to be completed in the first half of 2024, is expected to have an annual production of 25,000 tons of lithium hydroxide.
– Chinese mining firm Zijin Mining Group announced in February it is looking to invest $380 million to construct a lithium carbonate plant at the Tres Quebradas project in the northern province of Catamarca. The project will start production in 2023, at an estimated 20,000 tons of lithium carbonate per year.
– The Cauchari-Olaroz project owned by Minera Exar (a joint venture of Canada's Lithium Americas, China's Ganfeng Lithium, and Jemse) is expected to enter the production stage in the second half of 2022 with a projected annual output of 40,000 tons of lithium carbonate.
When looking at the neighbourhood in which EDDY's projects are located, one thing immediately stands out: they are completely surrounded by exploration and development-stage mineral projects worth billions of dollars.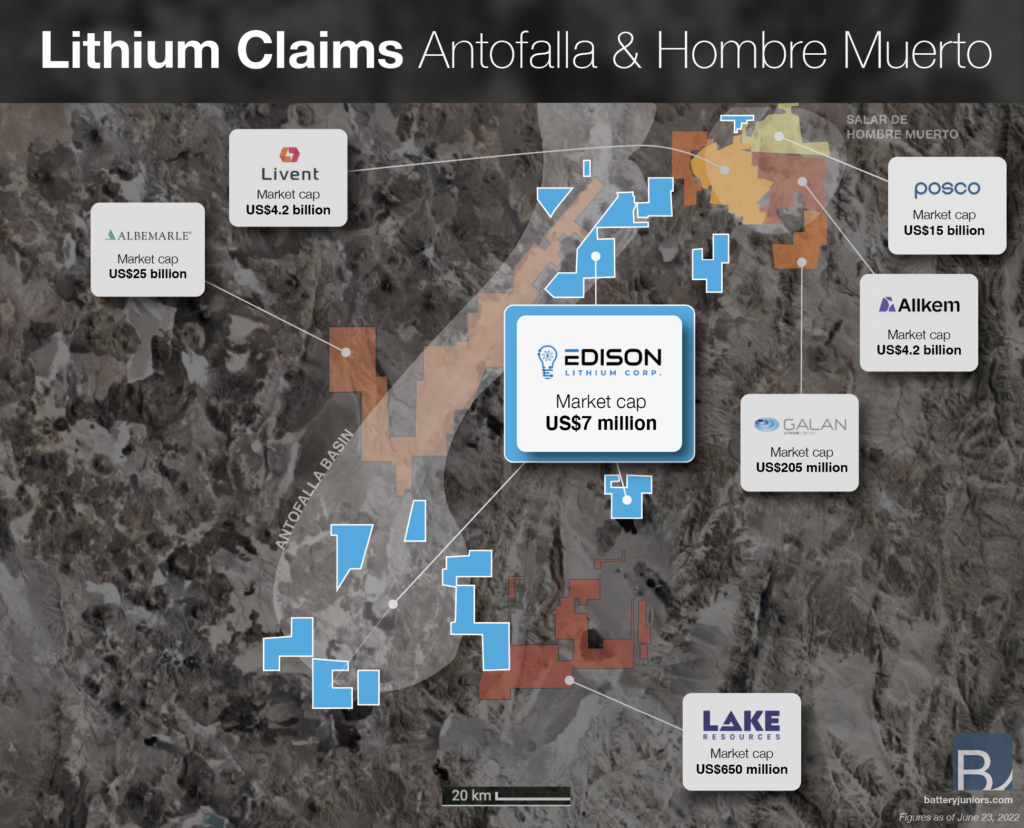 The ideal location is positioning EDDY as a potentially excellent acquisition candidate in the ongoing lithium M&A trend.

Edison Lithium: Growing Potential as an M&A Target
The rush to consolidate and control the supply chain has led to a surge in M&A activity in the lithium mining sector in 2021, totalling over $5.8 billion in transactions. The momentum has carried through into 2022: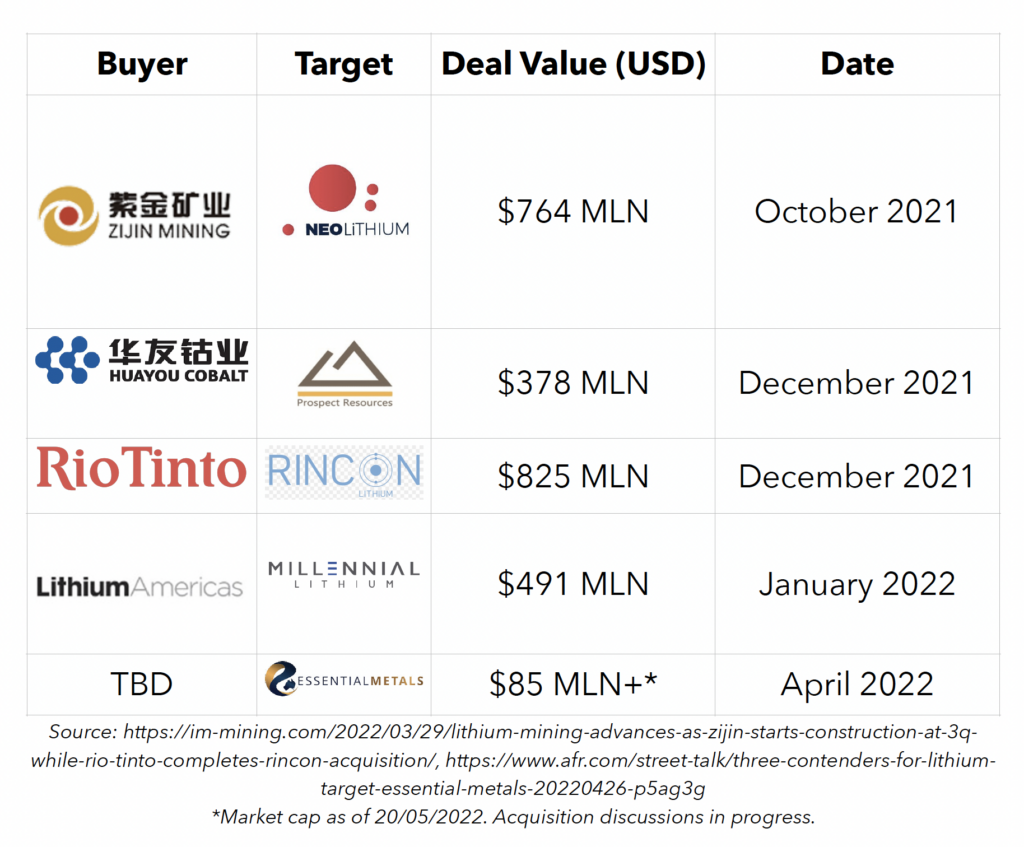 Top mining analysts are expecting this trend to continue, with further consolidation among junior lithium mining companies and China scrambling to find new lithium supplies in attractive jurisdictions.
A Giant Property With Major Lithium Exploration Potential
The size of EDDY's properties favourably compares with that of two of its neighbouring lithium projects which have already defined their mineral resources: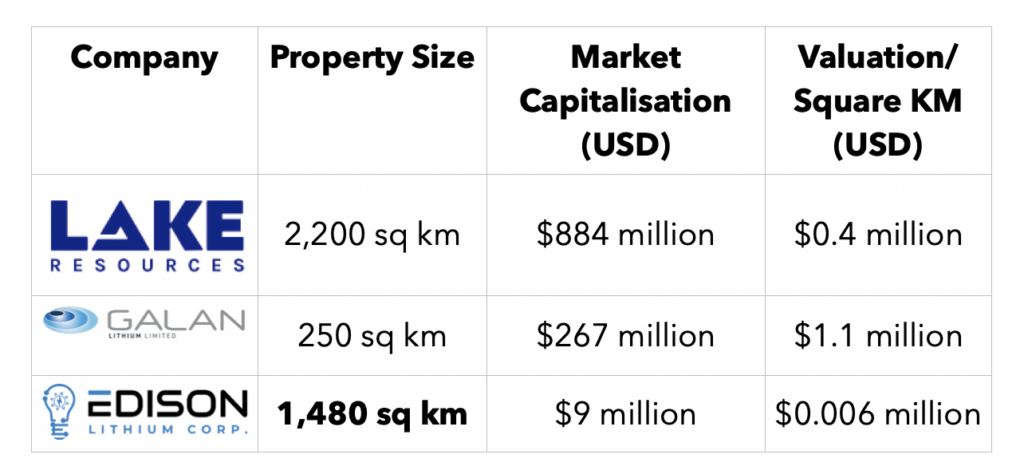 Valuing EDDY's properties at Lake Resources' multiple would make the company worth $950 million, over 95x times its current market cap. To make this price convergence happen, the size and extent of EDDY's lithium mineralization needs to be explored and defined – the key to driving up the valuation of the project and management's number one priority. 
Edison Lithium: An Experienced Team & Powerful Stock Price Catalysts 
The EDDY team is highly experienced in the field of mineral exploration, mitigating the risk inherent with exploration activities: 
Nathan Rotstein – CEO
Mr. Rotstein has over 45 years of experience in the financial markets. He has consulted with numerous companies in the energy metals sectors including cobalt, manganese, graphite, and lithium. Nathan also has an extensive global network of funds and high net worth individuals. 
Dr. Luisa Moreno – COO  
A Ph.D. in Materials Science with 12+ years of experience in economic research, mineral processing, and metallurgy. Dr. Moreno is Co-founder and Managing Partner of Toronto-based Tahuti Global, a successful Global Advisory and Consulting firm supplying services to government institutions, investment firms and companies in the mineral resource sector. 
Jay Richardson – CFO
Mr. Richardson is a Canadian Chartered Accountant and a Singapore Certified Public Accountant. He has practiced as a Partner of KPMG (UK) prior to establishing his own practice as a company doctor in Toronto, Canada in 1993. Mr. Richardson has served as the CEO or Chairman of listed public companies on five occasions and in many other CFO and private company situations. He is currently the President and CEO of EnerSpar Corp. (CVE: ENER), a listed feldspar mining company. 
A major share price catalyst is already in play: 
The team announced on April 5th, 2022 an upcoming exploration plan. In November 2021, the company completed an Environmental Impact Assessment (EIA) Report for the prospecting phase of exploration. A total of 24 claims covering about 100,000 hectares in the Antofalla Salar were included in EIA Report submitted to the Provincial Government of Catamarca. Geophysical survey results for claims #29 and #30 suggest the presence of a potential brine zone at least 300 meters thick that must be drilled to confirm quality and grades.
Nathan Rotstein, CEO, commented: "We are moving forward to carefully draft an optimal exploration plan for our vast claims. There is a current spotlight on Argentina for lithium discovery and we are moving quickly to identify any potential lithium resource in order to take advantage of the growing demand for lithium chemistry as it relates to the heated EV sector."
Exploration updates could prove to be a powerful catalyst for EDDY's share price in coming months, as results may indicate lithium resource characteristics similar to that of neighboring projects sporting $300 million+ and $1 billion-dollar+ market caps. The current price, hovering around a $0.10 base, and a market cap of 9 million could represent an interest entry point for prescient investors: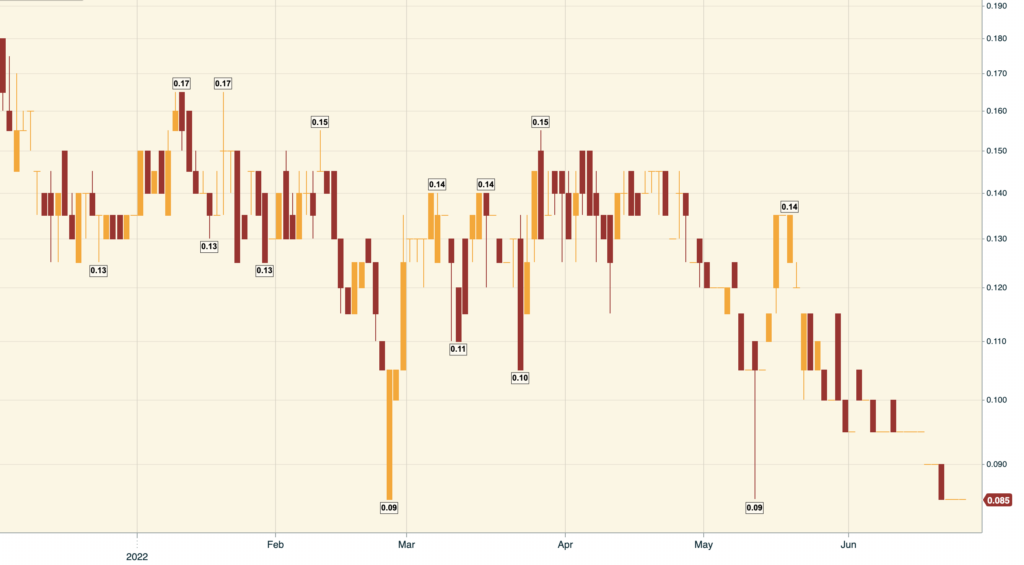 At this stage, EDDY might quickly show up on the radar of investors. The lithium market remains vibrant, with mining companies and Li-ion battery manufacturers looking for the next appetising target to secure future supplies. With a major-sized prospective lithium property, an experience team, and an excellent location, EDDY may soon become a prime M&A target. 
No investment advise The information provided in this article does not constitute investment advice, financial advice, trading advice, or any other sort of advice and you should not treat any of the website's content as such. Batteryjuniors does not recommend that any financial instrument should be bought, sold, or held by you. Do conduct your own due diligence and consult your financial advisor before making any investment decisions. At the time this article was originally posted, Edison Lithium Corp was an advertiser on Batteryjuniors. Accuracy of information Batteryjuniors will strive to ensure accuracy of information listed in our content although it will not hold any responsibility for any missing or wrong information. Batteryjuniors provides all information as is. You understand that you are using any and all information available in this article at your own risk. Non-endorsement The appearance of third-party advertisements and hyperlinks on content presented by Batteryjuniors does not constitute an endorsement, guarantee, warranty, or recommendation by Batteryjuniors. Do conduct your own due diligence in regard to the information provided.