A LITHIUM JUNIOR MINER IN THE MIDST OF PRODUCERS, ACQUISITIONS AND MAJOR ADVANCING PROJECTS

The material disconnect: automakers have to enter the mining scene to support future EV plans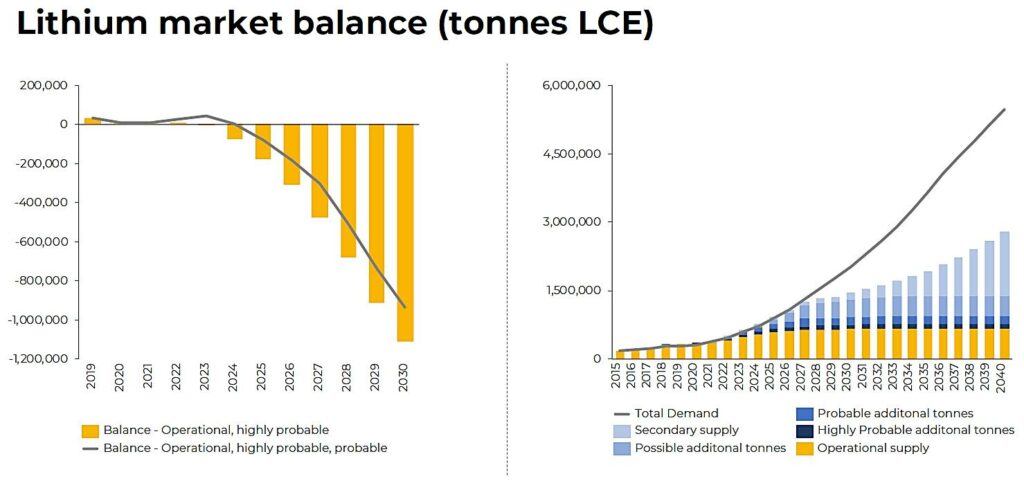 Figure 1. Lithium Market Balance
Source: Benchmark Mineral Intelligence
Looking at the supply and demand situation for lithium, demand is running at three times new supply, and the COP26 EV targets require a total of 7Mt LCE, which corresponds to an even larger material disconnect than presented in the figures above. As a result, the spot price of lithium is pushing new highs. Because of recent price movement and demand from downstream producers, M&A activity in the lithium sector is already beginning to heat up from major mining corporations. During the past year, Argentina's lithium triangle has without a doubt been the hotspot for lithium M&A activities, attracting large M&A transactions in different parts of the country, including:
    – Rincon Mining sold to Rio Tinto for US$825 million
    – Neo Lithium sold to the Chinese major Zijin Mining for US$770 million
    – Millennial Lithium sold to Lithium Americas for US$482 million
With the price of lithium currently going through the roof, a supply and demand situation not appearing to ease anytime soon, and EV manufacturers possibly forced to enter the mining scene, we are confident that future acquisitions in the lithium sector will be priced substantially higher.
EV manufacturers (...) will "need to become miners" to be able to bring new raw material mining capacity to the market

Figure 2. Benchmark Lithium Price Index
Source: Benchmark Mineral Intelligence
Salar de Hombre Muerto in Argentina's Lithium Triangle
Zooming in on the lithium triangle, you will find the Salar de Hombre Muerto attracting very large names that are active in the lithium space, such as Livent, Posco, and Allkem. This is for a good reason; the Salar de Hombre Muerto is one of the most famous lithium-producing Salars in the world, located on the border between the Catamarca and Salta regions. The brine chemistry in the Salar is widely recognized and characterized by high lithium grade and low impurity levels. In other words, the brines of Salar de Hombre Muerto has very favorable chemistry for the recovery of lithium. As shown in the figure below, the Hombre Muerto brine ranks in the top five for the best lithium brine chemistry in the world.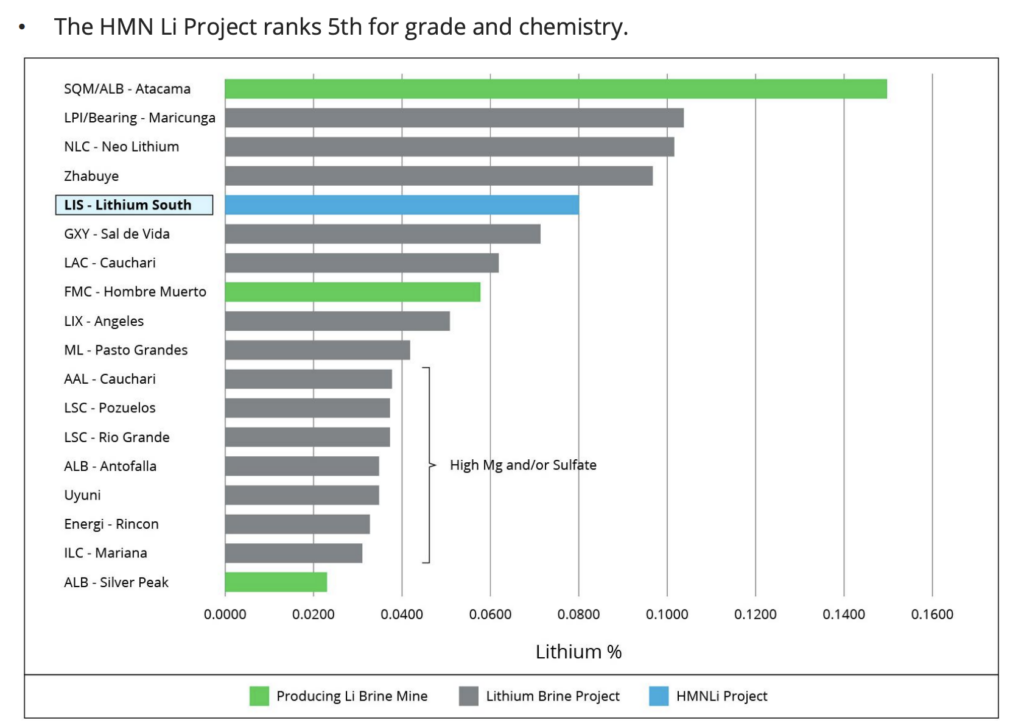 Figure 3. The HMN Project Ranks 5th For Grade And Chemistry
Source: Lithium South Development's Website
The mining companies already active in the region are beginning to ramp up operations as well. Posco recently announced that they plan to invest US$4 billion in its Hombre Muerto project. Additionally, there have been multiple M&As in the area, such as the acquisition of LCS Lithium and Lithium X, and most recently the aforementioned acquisition of Millennial Lithium for US$460 million by Lithium Americas.
..mining companies already active in the region are beginning to ramp up operations as well. Posco recently announced that they plan to invest US$4 billion in its Hombre Muerto project
The Opportunity: Lithium South Development Corp
So, where to look if you want to invest in a junior mining lithium project located in Hombre Muerto? There are only two advanced (i.e., post-PEA) publicly traded companies with a presence in the Hombre Muerto Salar: Galan Lithium and Lithium South Development. One is trading with a market cap over C$390 million, while the other is trading with a C$58 million market cap (US$45 million). In this article, we will focus on Lithium South Development Corp and its Hombre Muerto North (HMN) project.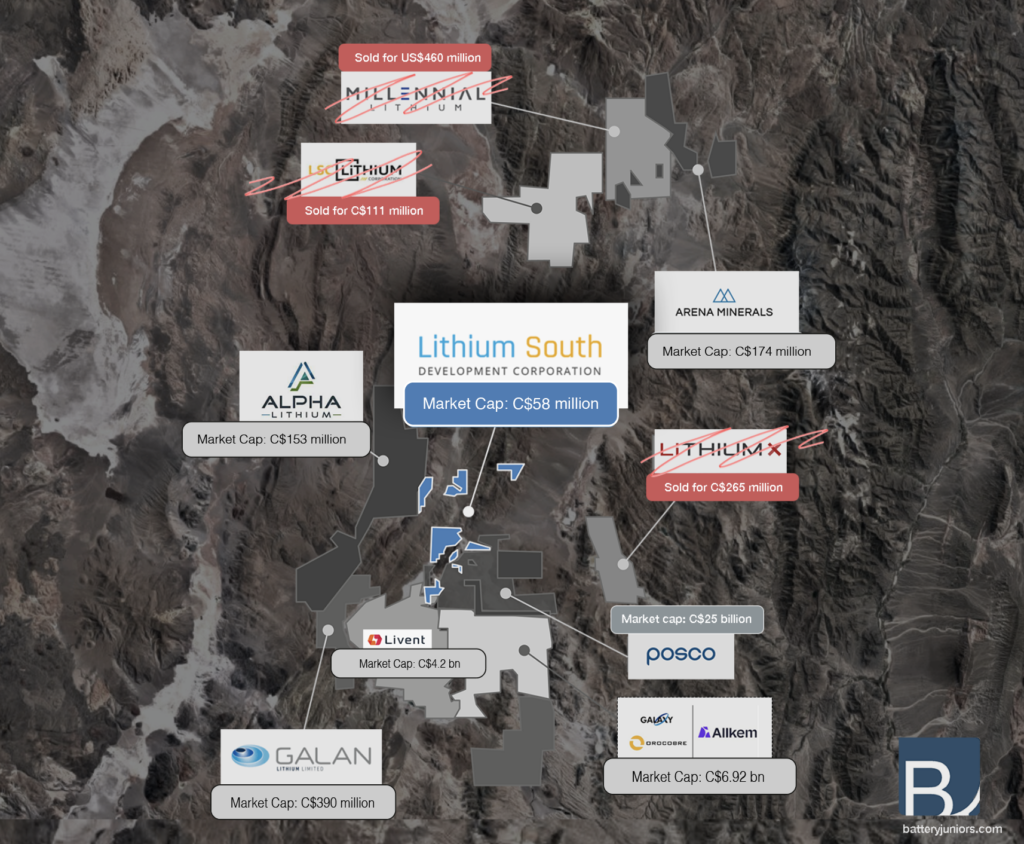 Figure 4. Lithium Companies And Acquisitions In And Around The Hombre Muerto Salar Together With Market Capitalizations & Buyout Prices (As of May 17, 2022)
Source: Batteryjuniors.com
Experienced Project Team Members
Located in the northern part of the Salar as the project name suggests, the company is surrounded by lithium majors. The company has put together a very strong team for its Hombre Muerto North project, with connections to various well-known companies that are active in the area. Here are some examples of people involved in the project:
Fernando E. Villarroel: VP and Director of Product and Development
Fernando has over 12 years of experience in the lithium sector. He worked as a project manager at Lithium America's Cauchari Olaroz from 2009 to 2013. He has also worked as a consultant to Neo Lithium and International Lithium Inc.
Vijay Mehta: Technological Consultant and QP
Vijay holds over 50 years of experience in the lithium field and 30 years of experience as the Product and Process Technology Development Leader of FMC, now Livent. He was also the Founding Developer of FMC's (Livent) lithium plant in the Hombre Muerto Salar, located directly to the south of the Lithium South claims. He holds 12 lithium patents and has published over 50 technological reports and 10 academic papers in the area.
Gerardo Ismael Martinez Mining engineer and drill program manager
Mr. Martinez has vast industry experience in managing and supervising large drilling programs both in Guyana and Argentina. He holds a mining engineer degree from the National University of San Juan located in San Juan, Argentina. He is proficient at managing the technical operations of planning and executing drill programs for proper and successful mineral and resource extraction.
Chemphys: Strategic Partner
Chemphys is Lithium South Development's strategic partner. Yi Hua (PhD) founded Chemphys in 1998 to focus on battery quality and high-purity lithium processing. He has a proven record of leading the development of lithium manufacturing techniques with 24 patents valid and under application. Chemphys is recognized as one of the world!s leading lithium processing and technology companies with over 22 in-house lithium patents.
Promising Lithium Extraction Technology
The company recently announced that they've partnered with Eon Minerals, located in Salta Argentina, to evaluate ways to optimize the conventional evaporation production process, but also to evaluate Eon's proprietary DLE technology to be used on the project. Both efforts could result in much lower land usage, which could increase the project's yearly output while decreasing the time required to produce battery-grade lithium end product to hours instead of years.

Figure 5. The Direct Lithium Extraction Process Versus Conventional Evaporation Ponds
Source: Lithium South Development's Website
A Positive Preliminary Economic Assessment
Taking a look at the project's economics, the company released a Preliminary Economic Assessment back in 2019 presenting a US$217 million after-tax net present value (8%), a US$98 million capital costs, and an IRR of 28% with a pay-back period of two years and five months. The study was based on a 5,000 tonnes per year production using conventional brine evaporation. Note that the study used a long-term lithium price assumption of $12,420/tonne LCE. Now LIS is focusing on expanding the current resource so that the size of the project can become larger.
..the company released a Preliminary Economic Assessment back in 2019 presenting a US$217 million after-tax net present value (8%), a US$98 million capital costs, and an IRR of 28% with a pay-back period of two years and five months.
Next Step: Resource Expansion & Fast-Tracked Approach Towards A Full Feasibility Study
 Now, this is where it gets really interesting. In February 2022, the company announced that they had received a drill permit for a 2,000-meter drill program focused on the previously unexplored Alba Sabrina claim block, aimed at expanding the current resources significantly. A recent T.E.M. study indicates the potential for a deeper brine acquifer.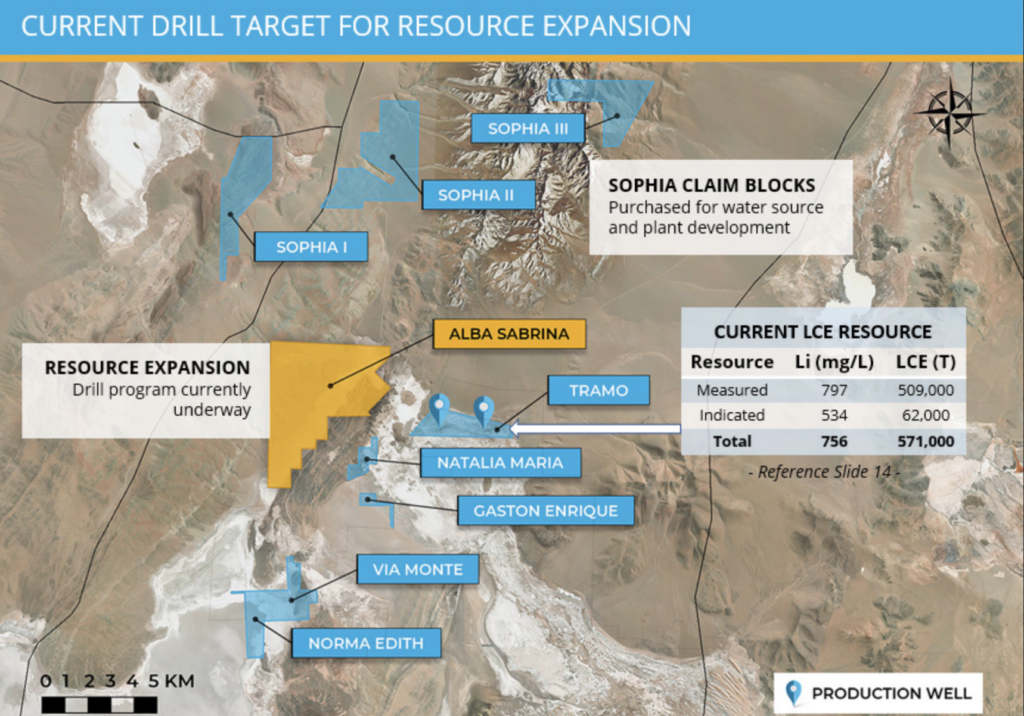 Figure 6. The Alba Sabrina Claim Block
Source: Lithium South Development's Website
Lithium South Development CEO, Adrian Hobkirk, believes that they could achieve a +2Mt LCE resource estimate, which would allow the company to use a +20,000 tonnes per year production rate in future technical studies. This would reflect a major increase from the 5,000 tonnes per year production presented in the PEA, resulting in a significant increase in the project's net present value. Lithium South Development intends to take a fast-tracked approach towards a full feasibility study, skipping the intermediate preliminary feasibility study. To move this ahead quickly, the Company is completing environmental permitting and process test work at the same time.
Summary
With the broader automotive industry experiencing supply issues, and lithium prices rising rapidly and negatively affecting battery costs, these large corporations may need to invest directly in lithium mining to secure future demand.
The M&A lithium sector has been very active over the past year with brine projects being acquired for hundreds of millions of dollars. Companies  sold with projects in Argentina include Rincon to Rio Tinto for US$825 million, Millennial Lithium Corp. to Lithium Americas for US$482 million and , Neo Lithium Corp to Zijjin Mining Group Co. Ltd for US$770 million. All of these were advanced projects near construction. LIS is now poised to potentially graduate to this level with a solid exploration and development plan underway.
If Lithium South Development is successful in its efforts, the company will be one of very few publicly traded companies holding a feasibility-level, large-scale project in a known Salar with favorable brine chemistry, making it a premier buyout candidate for anyone looking to secure future lithium supply. 
Mr. William A. Feyerabend, a Consulting Geologist and Qualified Person under NI 43-101, participated in the writing of this advertisement and has reviewed the scientific and technical disclosure contained herein.

No investment advise The information provided in this article does not constitute investment advice, financial advice, trading advice, or any other sort of advice and you should not treat any of the website's content as such. Batteryjuniors does not recommend that any financial instrument should be bought, sold, or held by you. Do conduct your own due diligence and consult your financial advisor before making any investment decisions. At the time this article was originally posted, Lithium South Development Corp was an advertiser on Batteryjuniors. Accuracy of information Batteryjuniors will strive to ensure accuracy of information listed in our content although it will not hold any responsibility for any missing or wrong information. Batteryjuniors provides all information as is. You understand that you are using any and all information available in this article at your own risk. Non-endorsement The appearance of third-party advertisements and hyperlinks on content presented by Batteryjuniors does not constitute an endorsement, guarantee, warranty, or recommendation by Batteryjuniors. Do conduct your own due diligence in regard to the information provided.