As the world shifts towards green energy and electric vehicles gain traction, the lithium market is experiencing unprecedented demand. In this evolving landscape, Portofino Resources Inc. is positioning itself as a very intriguing investment, especially with its recent strategic advancements in Argentina.
Acquiring the Yergo Lithium Project: A Strategic Asset with a Rich Backstory
Portofino Resources' recently announced acquisition of the Yergo Lithium Project in Argentina's lithium-rich region is more than just a strategic asset addition; it's a testament to the company's resilience and foresight in navigating complex regulatory and legal landscapes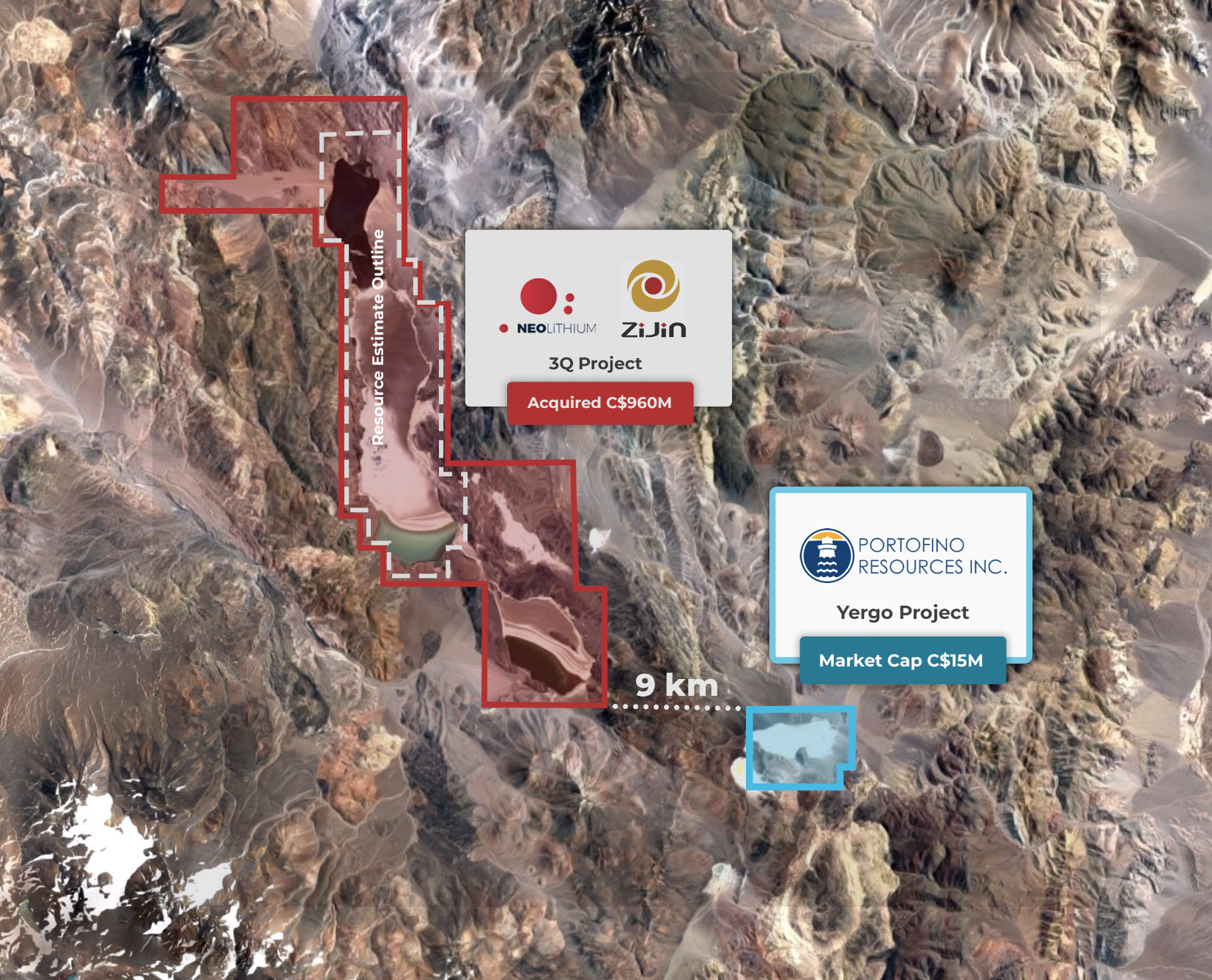 Proximity to Renowned Projects
The significance of the Yergo acquisition is amplified by the project's proximity to the renowned Tres Quebradas Salar owned by Zijin Mining Group Co., Ltd, who acquired Neo Lithium for a whopping C$960 back in 2021. Preliminary findings from Yergo hint at the possibility of it sharing brine characteristics with the Tres Quebradas project in terms of elevated lithium concentrations and minimal impurities.
Comprehensive Control Over Aparejos Salar
One of the most significant advantages of Portofino's Yergo Lithium Project is its comprehensive control over the entire Aparejos salar. Controlling the entire Aparejos salar aquifer offers Portofino distinct technical and geological advantages. Uniform exploration and consistent data collection across the salar lead to accurate resource estimates. This comprehensive control facilitates optimized lithium extraction tailored to the aquifer's unique characteristics, ensuring sustainable and efficient resource management. Additionally, strategic infrastructure placement becomes feasible, enhancing operational efficiency. Moreover, the complete control of the salar acts as a barrier to competitors, ensuring undivided access to the resource and offering a clear value proposition to potential investors. In essence, this complete control amplifies the project's efficiency, sustainability, and investment appeal.
Valuation and Investment Potential
Current valuations of lithium-brine properties in Argentina fluctuate between US$1,800 and over $2,300 per hectare. Given Yergo's drill-ready status and its expansive 2,932 hectares that encompass the entire Aparejos salar, its current valuation could well exceed these figures. Considering Portofino secured Yergo for a mere US$600,000, it underscores the astuteness of Portofino's acquisition strategy.
Following the announcement of the Option Buy-Out, Portofino has seen a renewed interest from various groups for potential investment, joint ventures, or outright acquisition. The company is currently in active discussions with multiple parties, and while no transaction is guaranteed, the renewed interest is a testament to the project's potential.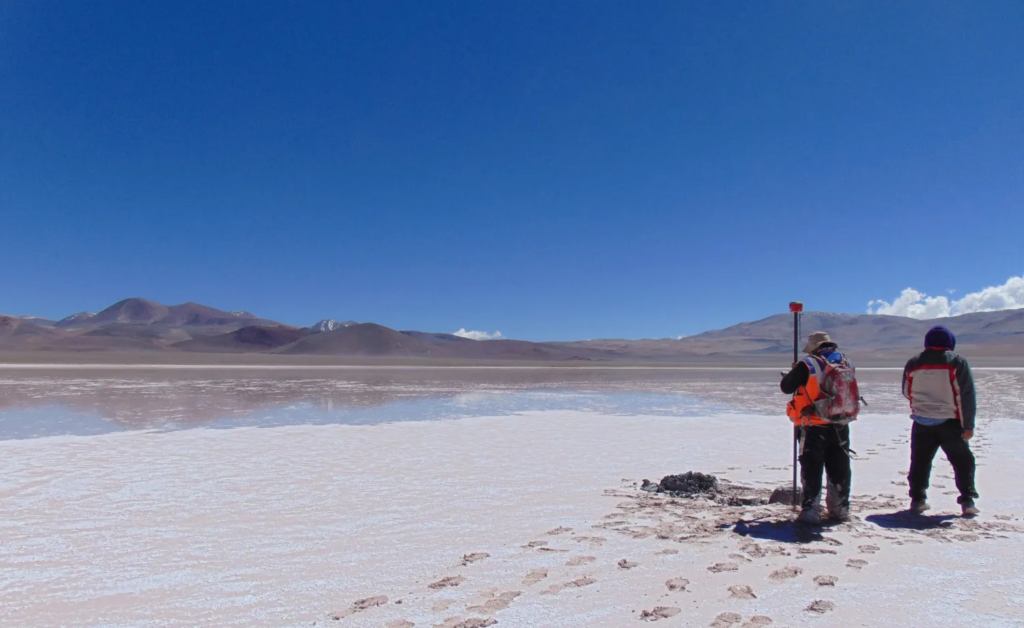 But what really adds depth to this acquisition is the project's history leading up to the option buyout.
Historical Challenges and Resilience
In 2019, the company entered into an agreement to acquire the entirety of the Yergo property. Since that time, they've undertaken exploration activities, culminating in a 4-hole drill program. The permit application was submitted in April 2021.
Between Q3 2021 and Q2 2022, the project faced a delay of approximately one year in receiving its drill permits due to a comprehensive wetland study initiated by the Government of Catamarca in line with the RAMSAR Convention. The study, concluded in June 2022 by the RAMSAR Committee, aimed to align Catamarca with its long-standing commitment to the convention. Notably, the Aparejos Salar, where the Yergo Project is located, was specifically excluded as an area of interest by the RAMSAR Committee, thus permitting industrial activity in and around the salar.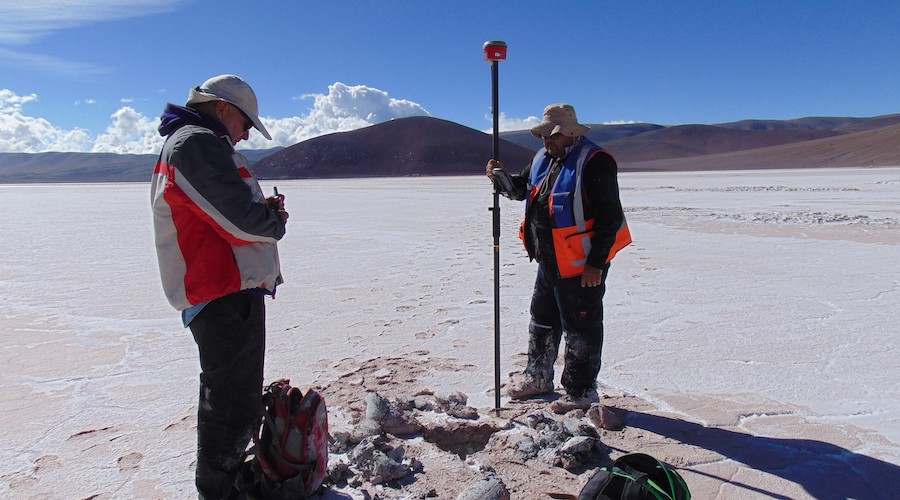 This exclusion was pivotal for Portofino. While the company was sensitive to local concerns, the RAMSAR Committee's decision ensured that responsible development of the project won't be hindered. With the wetland study out of the way, Portofino announced that it had cleared the final step for the project drilling permit In August 2022.
But in September 2022, another challenge arose. Portofino announced that it had received a Notice of Termination from the claim owner and Optionor of the Yergo Project, regarding previous agreements. Portofino immediately rejected this notice, asserting that the claims were baseless and without merit. This legal concern halted the company's progress in obtaining the drill permit for another year as Portofino decided not to submit its drill permit application until this legal issue was resolved.
The resolution came in the form of an executed Binding Letter of Intent in August 2023, ensuring all rights and concession ownership for the Yergo Lithium Project were transferred directly to Portofino. In September, Portofino announced that it has closed the buyout of the original Yergo Project Option agreements, and has now secured 100% ownership of the Yergo property.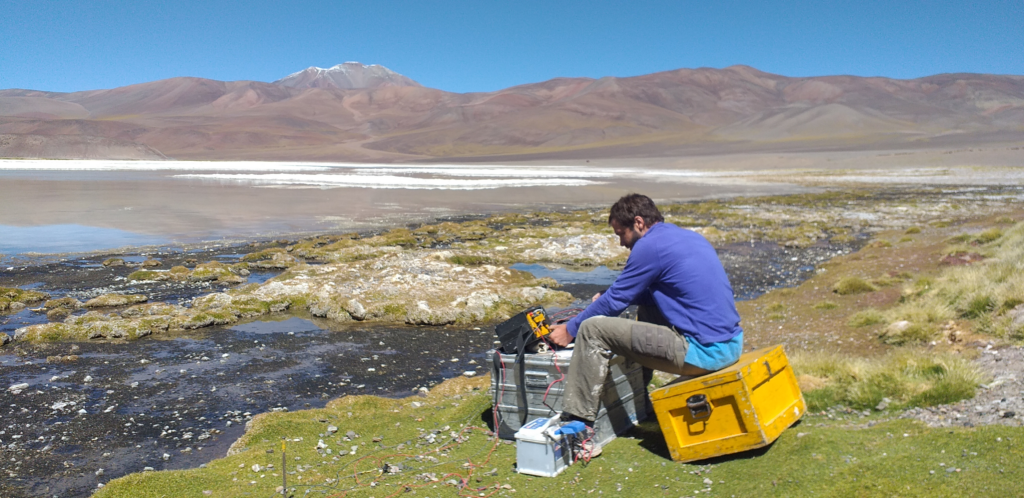 After navigating two years of challenges, Portofino is now poised to submit its drill permit application and embark on its initial 4-hole drill program. Thanks to the comprehensive preliminary work from the previous application, management is optimistic that the permit will be secured promptly, ensuring a smooth and swift progression.
Being drill-ready accelerates its development timeline compared to other early stage explorers, positioning it for the next exploration phase to determine the depth and quality of its lithium resources and potential reserves. Positive drilling outcomes in the months ahead could significantly elevate the project's valuation and Portofino's role in the Argentine lithium space.
In essence, the Yergo Lithium Project is not just a cornerstone for Portofino Resources due to its potential lithium reserves. Its rich backstory, marked by regulatory challenges, legal disputes, and the company's perseverance, makes it a testament to the Portofino management team's commitment and resilience in the face of adversity.
Doubling Down on Argentina: Portofino's Competitive Bids in the Coveted Arizaro Salar
While grappling with Yergo's permitting delays, stemming from the wetland study and legal uncertainties in 2021 and 2022, Portofino's management remained proactive. They pivoted their focus and entered into a strategic Memorandum of Understanding, setting the stage for their next significant move: the Arizaro Salar bid.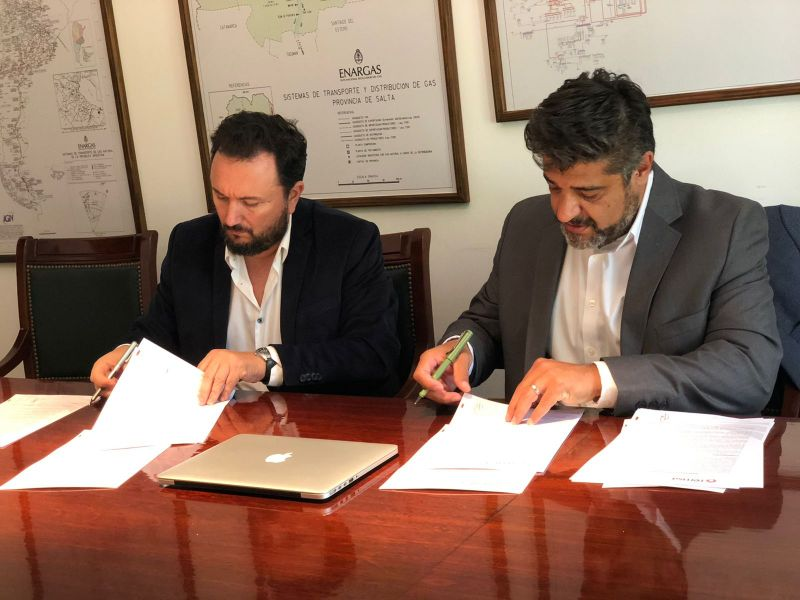 The Arizaro Salar Bid: A Game-Changer
In March 2, 2022, Portofino signed a Memorandum of Understanding (MOU) with REMSa, Salta's state-owned mining company. This MoU allows Portofino the option to acquire a majority interest in several lithium brine-targeted mining concessions overseen by REMSA, spanning over 27,000 hectares in the renowned Argentine Lithium Triangle.
Exploration and Geological Insights
As a part of the MoU and in conjunction with REMSa, Portofino carried out extensive geological due diligence on one of the concession areas in the Arizaro salar, formally referred to as REMSa IX Sub-Area IV. Initial surface exploration work on this 8,445-hectare block revealed a thick overburden (crust). However, surface samples still assayed as high as 100 milligrams per litre (mg/l) lithium, consistent with surface results of other groups exploring this mature salar. The exploration activity further included:
40+ surface brine samples collected and analyzed.
35 trenches reaching shallow water tables using excavation equipment.
69,000 meters (m) of geophysical surveying utilizing Vertical Electric Soundings (VES) technology, revealing aquifer depths up to 1,000m.
Low resistivity horizons identified and interpreted as brine targets potentially containing large concentrations of lithium.
The VES results with the most significant thickness in the low resistivity layer are anticipated to be the highest prospective areas of interest, located to the east and south. The explored area shares geological characteristics with other areas in the same salt flat where brines with high lithium content have been detected at depth. Adjacent properties within the Arizaro salar have been drilled to depths of more than 500 m, yielding prospective levels of 300 m to 400 m with >500 mg/L lithium.
The Bidding Process and Future Prospects
The Remsa IX concessions are now part of an ongoing public bidding process, organized by REMSa. Portofino has submitted detailed bid proposals for two contiguous lithium concessions within the Arizaro salar, specifically sub-areas III and IV, marking a significant strategic move to expand its foothold in the lithium-rich regions of Argentina.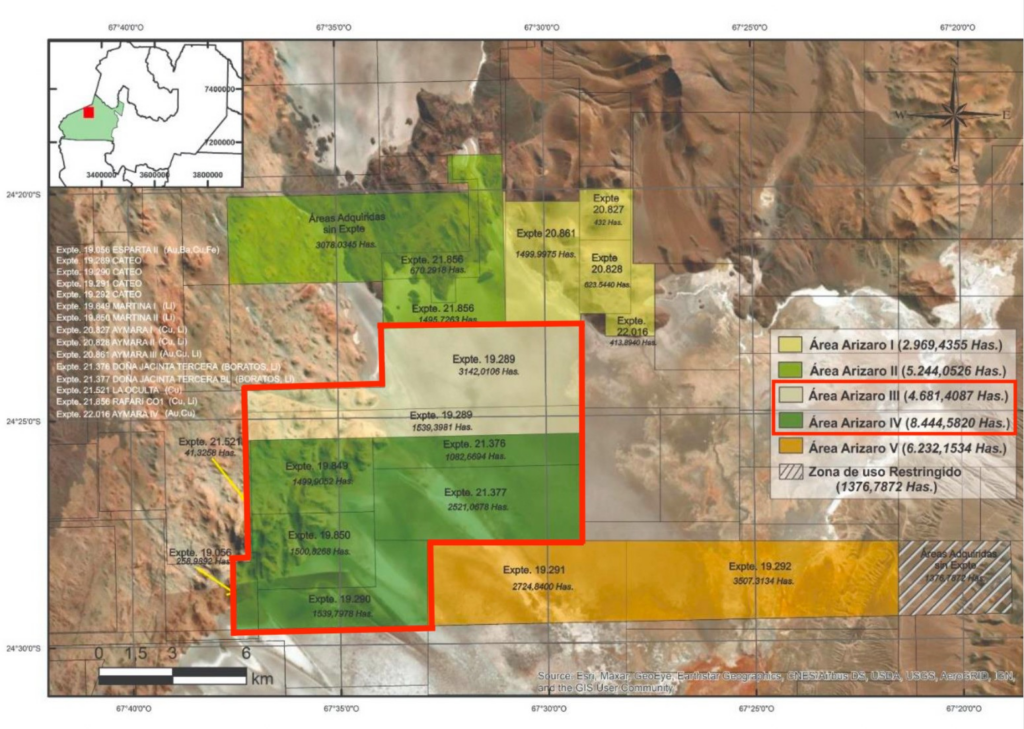 David Tafel, CEO of Portofino, commented on the bid, expressing confidence in the thoroughness and competitiveness of their Arizaro Salar partnership proposals. The company remains optimistic about the outcomes and is eagerly awaiting the results anticipated later this fall.
In conclusion, the Arizaro Salar bid is a pivotal move for Portofino. It reflects the company's proactive approach to capitalizing on opportunities and its commitment to becoming a significant player in the lithium sector. As the results of the bid unfold, the industry will be watching closely, and Portofino's endeavors in Arizaro could very well set the tone for its future trajectory.
The Broader Lithium Landscape in Argentina
The Ripple Effect of Lithium Chile's Arizaro Project
Another significant development in the lithium sector is the interest shown by outside parties in Lithium Chile's Arizaro project. The Arizaro project has recently been a focal point of attention due to its potential and strategic location. This interest from external entities could have a cascading effect on the valuation of other projects in the vicinity, including those of Portofino, if they emerge successful in the Arizaro bid.
M&A Activity in Argentina's Lithium Sector
It's not just Lithium Chile that is drawing the gaze of potential partners eager to tap into Argentina's lithium triangle. Over the past couple of years, Argentina's lithium sector has emerged as a magnet for mergers and acquisitions, underscoring the region's significant position in the worldwide lithium arena:
Zijin Mining acquired Neo Lithium Corp's Argentina lithium project for a staggering $960 million CAD.
Rio Tinto stepped in with a purchase of the Rincon lithium project for $825 million USD.
China's Ganfeng Lithium made headlines by acquiring the Lithea lithium project for $962 million USD.
Lithium Americas made significant moves by spending $227 million USD to buy Arena Minerals' 65% ownership of the Sal de la Puna project and another $400 million USD for Millennial Lithium.
Spain's Tecpetrol Investments recently made an increased all-cash offer of C$293 for Alpha Lithium's projects in Argentina.
Early-stage Argentine lithium explorer Argentina Lithium (LIT) announced a US$90 million investment by Stellantis in ARS$ equivalent for an off-take agreement and a 20-25% stake in LIT, at a time when LIT was trading with a C$23 million market capitalization.
These deals highlight the escalating interest and vast potential of Argentina's lithium triangle, turning it into a hotspot for global investors and industry heavyweights. Portofino stands primed to capitalize on this momentum.
Strengthening the Advisory Board: A Strong Move for Portofino
Portofino Resources has recently fortified its strategic position by implementing a new advisory board, bringing on board two seasoned industry professionals: Mr. Alex Molyneux and Mr. Blake Steele.
Mr. Molyneux boasts 25 years of experience in the metals and mining industry. His track record with critical mineral and energy metal project development is commendable. Notably, he served as the Chairman of ASX-listed Argosy Minerals Ltd. during its initiation of the Rincon Lithium Project in Salta Province, Argentina. This project, under his leadership, developed a resource and commissioned its first battery-grade lithium carbonate production facility. His tenure as CEO of Paladin Energy Ltd., a major uranium company, and his involvement with Azarga Uranium Corp. further solidify his credentials in the industry.
Mr. Steele, on the other hand, is an experienced metals and mining industry executive with a rich history of delivering shareholder value with energy metal projects. He was the President and CEO of Azarga Uranium Corp., which grew into an advanced stage multi-asset company and was subsequently acquired for C$200m by EnCore Energy Corp. His association with SouthGobi Resources Ltd. and his foundational years with Deloitte & Touche add depth to his expertise.
Why Portofino Stands Out
Portofino Resources Inc. is not just another name in the lithium market; it's a symbol of resilience, strategic foresight, and a keen eye for value. Several factors make Portofino stand out in the crowded lithium landscape:
Strategic Acquisitions: The acquisition of the Yergo Lithium Project, with its proximity to renowned lithium projects and its expansive hectares, showcases Portofino's ability to identify and secure valuable assets at astute valuations.
Navigating Challenges: The company's journey with the Yergo project, marked by regulatory hurdles and legal disputes, is a testament to its perseverance. Overcoming these challenges not only speaks volumes about the management's commitment but also positions the company favorably for future endeavors.
Expansionary Vision: While many companies might have been bogged down by challenges, Portofino proactively sought new opportunities, as evidenced by their competitive bids in the coveted Arizaro Salar.
Position in a Hotspot: With Argentina's lithium triangle becoming a magnet for global investors, Portofino's strategic positioning in this region is invaluable. The recent M&A activities in the sector underscore the immense potential and interest in this region.
Strengthened Leadership: The leadership team at Portofino, now bolstered by the addition of Mr. Molyneux and Mr. Steele, showcases their ability to navigate the complex terrains of mineral exploration and acquisition. Their combined expertise, especially Mr. Molyneux's direct experience with Argosy's Rincon lithium project, can be instrumental in advancing Portofino's endeavors in Argentina.
Diversified Portfolio: Beyond Argentina, Portofino's interests in Canada, spanning lithium and gold projects, showcase a diversified approach, hedging against regional risks and tapping into multiple resource-rich avenues.
Valuation and Potential: With a market cap of roughly C$15m, Portofino's valuation presents a compelling case for investors. When you consider the potential value of the Yergo property alone, given its expansive hectares and its current valuation that could exceed the average figures for lithium-brine properties in Argentina, the upside becomes evident. Add to this the potential upside from the Arizaro bid and the value of their other projects, and it becomes clear that Portofino's current valuation might just be the tip of the iceberg.
Final Thoughts
Portofino Resources Inc. is more than just a lithium company; it's a story of strategic vision, resilience, and an unwavering commitment to value creation. As the lithium market continues to heat up, driven by the global push towards green energy, Portofino's strategic assets and expertise position it as a compelling player in this sector. With its recent advancements in Argentina, strengthened leadership, and diversified portfolio, the company is not only poised for growth but also stands as a testament to what can be achieved with the right blend of strategy, perseverance, and expertise. Investors and industry watchers would do well to keep an eye on Portofino's next moves, as it continues to navigate the lithium landscape with aplomb.
---
Disclaimer
The content of this article is for informational purposes only and should not be construed as investment advice. It is always recommended to conduct your own research and consult with a financial advisor before making any investment decisions. Additionally, this article has been sponsored by Portofino Resources, and is part of an ongoing advertisement contract. This advertisement is not an offer to buy or sell securities.