Vancouver, British Columbia–(Newsfile Corp. – July 24, 2023) – Origen Resources Inc. (CSE: ORGN) (FSE: 4VXA) (the "Company" or "Origen") is pleased to announce an update to its ongoing exploration on its 100% owned Los Sapitos Property in the San Juan Province of Argentina.
Highlights:
Sampling confirms lithium prospectivity
District-sized land position covering entire salar and potential basin extensions
Geophysics to begin shortly to identify drilling targets
Preliminary results from the ongoing sampling at Los Sapitos are encouraging.A series of silt samples collected from the Los Sapitos salar were treated with both an acid and a purified water wash. The results show that significant lithium is found both in clays and in evaporite mineralization on the eastern margin of the basin with results of up to 824 mg/L found in the most eastern samples collected to date.
Map: the location of the samples collected during the most recent sampling program at the Los Sapitos salar. Values shown represent lithium derived from an 'Acid Leach' completed on the silt samples.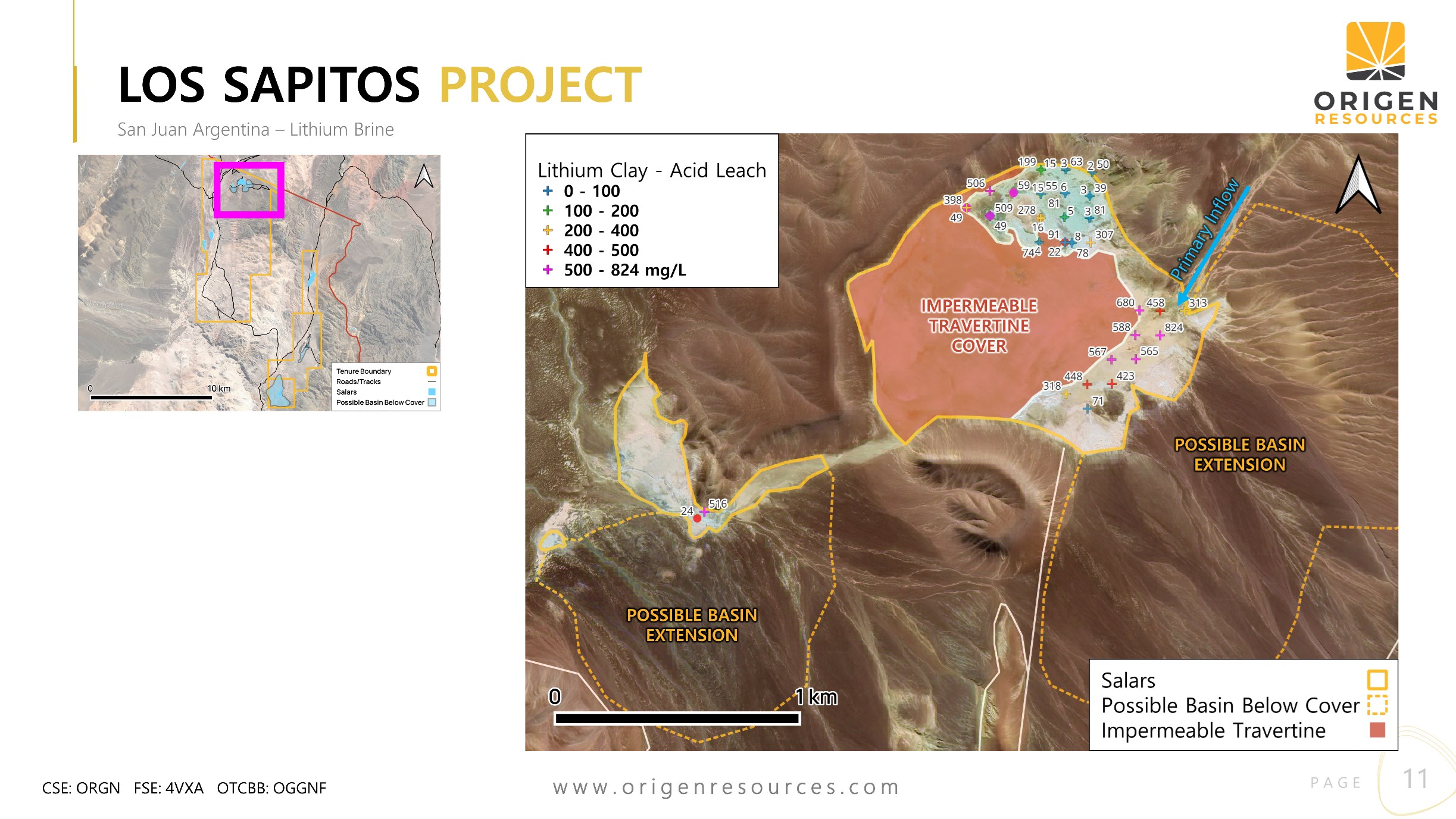 These results are evidence that lithium extends over the entire basin fed from a single aquifer at depth. The basin is elevated at this location and sampling teams were unable to get to the water table.
Brine samples collected from the western part of the basin returned the most anomalous results from a small depression in the west of the salar. Close to those found during previous sampling programs. The amount of lithium in the brine at this location may be a function of sampling teams being able to tap deeper into the water table.
Basin morphology is now thought to be governed by a regional thrust faulting that runs through the property forming a significant depression and catchment for lithium bearing fluids.
Source: https://finance.yahoo.com/news/origen-finds-lithium-rich-clays-130000424.html