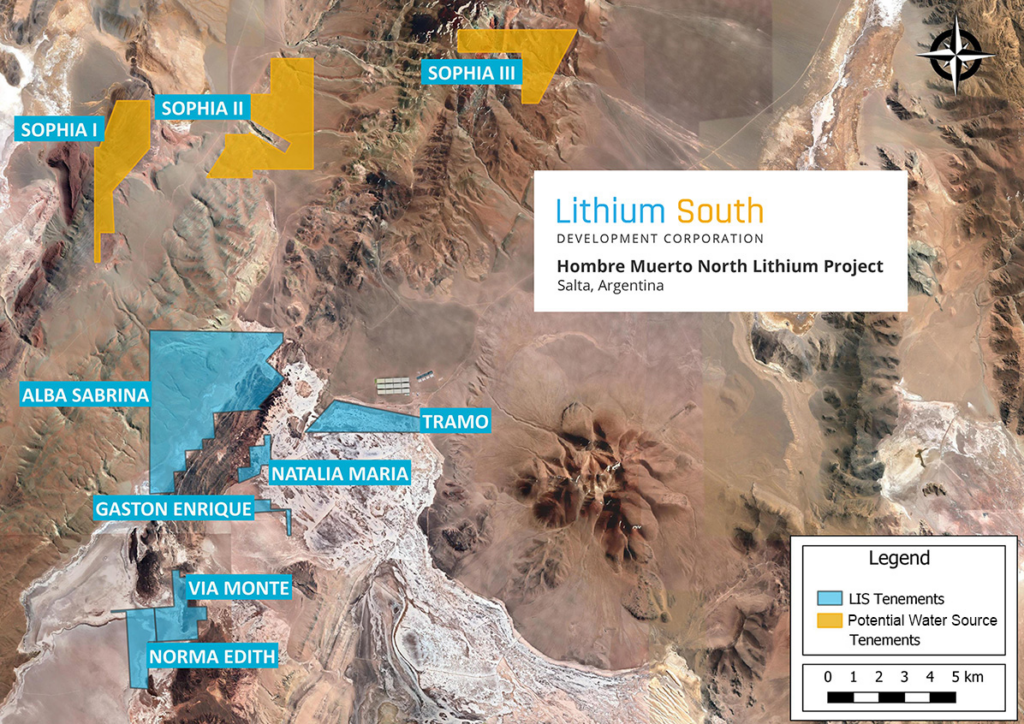 Lithium South Development Corp. has made significant strides in securing a critical water source for its Hombre Muerto North lithium project (HMN Li project). The company recently completed a hydrological study on the Sophia II and Sophia III claim blocks, situated at the Hombre Muerto salar, Salta province, Argentina.
Water is an essential component for lithium production. To this end, Lithium South procured the Sophia I, II, and III claim blocks to ensure a sustainable and dependable water supply. Located approximately 10 kilometers north of the HMN Li project, these blocks are well positioned for supporting future lithium production operations.
The hydrological study encompassed a vertical electric sounding of the Sophia II and III claim blocks. This exercise identified three distinct geological zones. Following this discovery, a drilling program is being designed to determine the potential aquifer. Impressively, water was observed flowing to the surface on site.
Lithium South is also engaged in updating its lithium resources. Groundwater Insight, based in Halifax, N.S., is conducting the technical work for the resource update. The team is presently awaiting final porosity results from GeoSystems Analysis Inc. based in Tucson, Ariz. The updated resource calculation, which will consolidate the Alba Sabrina, Natalia Maria, and Tramo Claim blocks, is forthcoming.
Lithium South Development Corp. wholly owns the Hombre Muerto North lithium project in Salta province, Argentina, which is at the heart of the lithium triangle. The salar has a long history of lithium production, with Livent Corp. in operation for more than 25 years just south of the HMN Li project. The HMN Li project is surrounded by a $4-billion (U.S.) lithium development in progress by POSCO (Korea) and the Sal de Vida project being developed by Allkem.
Lithium South has defined a National Instrument 43-101 lithium carbonate equivalent (LCE) resource on the Tramo claim block, one of five non-contiguous blocks that make up the HMN Li project. Further drilling on the Alba Sabrina and Natalia Maria claim blocks has unearthed additional lithium zones that will contribute to defining a new, potentially larger LCE resource. Consequently, Lithium South is shifting from being a lithium explorer to becoming a lithium developer.

Read more about Lithium South Development Corp by following the link below
---
Disclaimer
No Investment Advice: The information provided in this article does not constitute investment advice, financial advice, trading advice, or any other sort of advice, and you should not treat any of the website's content as such. BatteryJuniors does not recommend that any financial instrument should be bought, sold, or held by you. Do conduct your own due diligence and consult your financial advisor before making any investment decisions. At the time this article was originally created, Lithium South Development Corp ("LIS") was an advertiser on BatteryJuniors.com.
Accuracy of Information: BatteryJuniors will strive to ensure the accuracy of information listed in our content, although it will not hold any responsibility for any missing or wrong information. BatteryJuniors provides all information as-is. You understand that you are using any and all information available in this article at your own risk.
Non-endorsement: The appearance of third-party advertisements and hyperlinks on content presented by BatteryJuniors does not constitute an endorsement, guarantee, warranty, or recommendation by BatteryJuniors. Do conduct your own due diligence in regard to the information provided.